Manchester Attack: East Midlands Response
24 May 2017, 13:11 | Updated: 24 May 2017, 22:06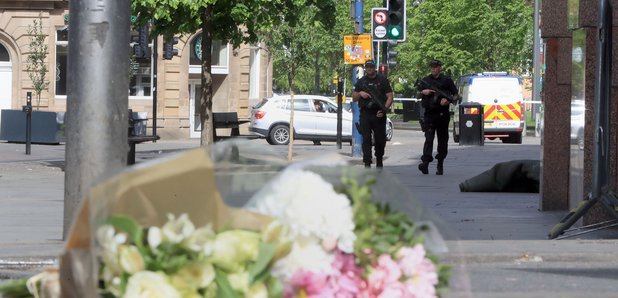 The region comes together after 22 people, including children, were killed after a suicide bombing at Manchester Arena.
At least 64 people were also injured when the bomb went off at the end of an Ariana Grande gig on Monday night.
The 23-year-old American singer was performing as part of her Dangerous Woman tour when a suicide bomber detonated an improvised explosive device.
The singer said on Twitter she is "broken" after the terror attack:
broken.
from the bottom of my heart, i am so so sorry. i don't have words.

— Ariana Grande (@ArianaGrande) 23 May 2017
Nottingham dad Nick Haywood was at the Manchester Arena when the bomb went off as he was there to pick up his daughter and her friend:
We spoke to Jacob from Nottingham who went up to Manchester on Monday night to offer people lifts back home:
The first victim to be named over the attack was 18 year old Georgina Callander. She was at the concert on Monday night and had met the singer back in 2015 which she posted on her Instagram:

Venues across the East Midlands say they are continuously evaluating their security:
.@nottinghamarena say staff there already have training over counter terror and keep a close eye on police intelligence #CapitalReports https://t.co/L5SXpa5fFH

— CapitalEastMids News (@CapitalEMNews) May 23, 2017
Three new arrests have been made in connection with the Manchester Arena suicide bombing. A 23 year old man was already being questioned in connection with Monday's attack.
The attacker has been named as 22-year-old Salman Abedi - a British born man with Libyan heritage, but the Home Secretary says it seems likely he wasn't acting alone.
The terror threat level have been raised to 'criticial' overnight meaning another attack could be imminent.

It will see solidiers at the key sites across the UK. We've been speaking to Police forces across the East Midlands
Leicestershire Police - tell us that after an assessment overnight they have no IMMEDIATE plans to deploy military personnel onto the streets. However, we WILL see more patrols of armed and unarmed officers in key locations over the coming hours and days.
Nottinghamshire Police –

tell us there will not be military personnel on the streets. However, you will see armed police officers in busy places, just like many other cities around the UK.

Derbyshire Police –

increased armed patrols and resources will be made available but these will be used discretely to avoid any heightening of community fears.
There will be more vigil on Wednesday night after ones where held in Stapleford and Chesterfield on Tuesday night.
Leicester – 5:30pm - The Dean of Leicester has tweeted that there will be a vigil at Town Hall Square in the city tonight
Derby – 7pm – Women's Day Derby have tweeted that there will be a vigil tonight at the Derby Waterfall on the Market Square
Dean of Leicester David Monteith tells Capital that there will be a

big chalk heart drawn on the ground in Leicester

on Wednesday night to signify the city's love for Manchester:
A big chalk heart will be drawn on the ground in #Leicester tonight to signify the city's love for #Manchester; @davidrmmonteith explains pic.twitter.com/YkglnrXPUg

— CapitalEastMids News (@CapitalEMNews) May 24, 2017
Sajid Mohammed from Himmah, a muslim community group in Nottingham, has told Capital this attack will not divide us but make us stronger: