Leicester Men Sentenced For Manslaughter Of Steve McKinnon
29 March 2016, 15:07 | Updated: 30 March 2016, 13:50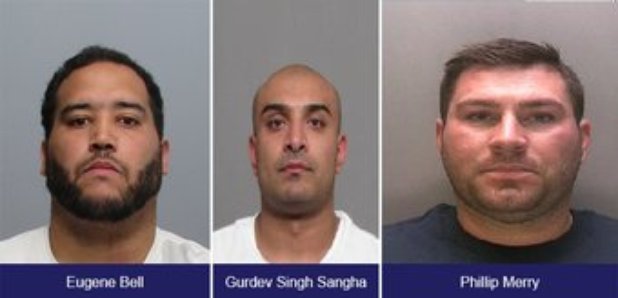 After he was kicked and punched at a party in the city last year
TUESDAY 29TH MARCH
Three men have today been sentenced to 26 years between them for the manslaughter of 44 year-old Steve McKinnon.
Today (Tuesday 29 March) Bell was sentenced to 10 years for manslaughter, Merry and Sangha were both sentenced to eight years each for manslaughter and six months each for ABH. The sentence for ABH is to run concurrently.
The court had heard how Bell, Sangha and Merry had arrived at the Durham Ox pub, in Birstall, during the early hours of the morning where two of them launched an unprovoked assault on a guest who was attending a party at the venue.
**
THURSDAY 24TH MARCH
Three men from Leicester have been found guilty of manslaughter after a man died in the city.
Eugene Bell, Philip Merry and Gurdev Sangha were convicted of the manslaughter of Steve McKinnon after a 5 week trial in Nottingham.
Steve suffered a brain injury after being punched and knocked to the ground in June last year. He had tried to break up a fight between others at a party.
The three will be sentenced on Tuesday.
Following today's conviction Steve McKinnon's wife Clare, has issued the following statement on behalf of the family, paying tribute to her husband.
She said: "Steve, or Scouse as he was known to those closest to him, was a beloved husband, father, son, brother, granddad, uncle and friend who will always be remembered.
"He had a large family, all of whom he adored.
"Steve was a very caring and loving person. He had a smile that once seen was never forgotten and an infectious laugh to match. He was a very bubbly and carefree man.
"Scouse had an out-going personality and a real passion for life and his hobby, scooters.
"Life is so quiet without him around, the silence will be ever present now that he has gone and we all share that empty space.
"For us as a family, losing Steve in the way we did was devastating. We are living in a nightmare and continue to ask the question, 'Why him?'
"The image of Steve that day in hospital will haunt us forever and the pain we share will never go away.
"We cherish the memories and precious time we all spent together and only hope that as a family we can move forward.
"We would like to thank all of the investigation team at Leicestershire Police, Detective Chief Inspector Natalee Wignall who led the inquiry, Detective Sergeant Paula Line, Detective Constable Jenny Tattersall and our Family Liaison Officer, Detective Constable Eleanor Johnson.
"Our thanks also go to the Crown Prosecution Service, QC William Harbage and Matthew Lowe for their dedication and commitment.
"Finally we would like to thank all of the family and friends who have constantly provided support to get us through this nightmare."