Knife Crime Hits Three Year High In The East Mids
13 July 2017, 12:54 | Updated: 13 July 2017, 13:31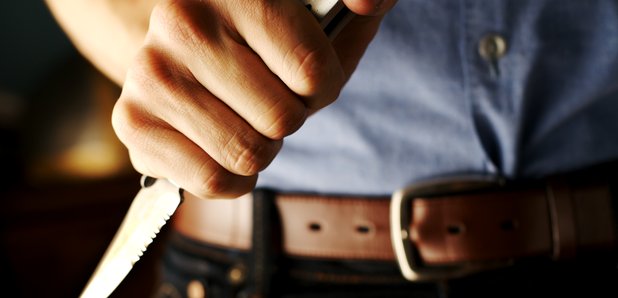 EXCLUSIVE stats for CAPITAL show children as young as seven have been caught taking knives into school in the East Midlands.
Statistics we gained from police forces across the region show knife crime among under 18s has reached a three year high since 2014.
In Derbyshire the number of under 18s caught with knives has more than doubled since 2014.
It's also increased by nearly 30% in the Nottinghamshire police force area.
This teenager, from Nottingham, says he was pressured into joining a gang and carrying a knife, as soon as he started secondary school.
Capital's found the number of under 18s caught with a knife in Leicestershire has nearly halved since 2015, but the number of children caught taking blades into school has gone up.
Joe Russo set up the Enthusiams Trust, in Derby, to tackle gang-related crime. He says the authorities must look at grooming linked to violent crime, as well as sexual abuse, in order to protect children.
VIDEO: @JosephRusso1969 says authorities must look at grooming linked to violent crime as well as sexual abuse, after a rise in #KnifeCrime pic.twitter.com/CppX08mmh4

— Laura Chiverton (@LABMidlands) 13 July 2017
Our figures show that, on average, FOUR under 18s are being caught with a knife in the East Midlands EVERY week.
We put our stats to the Prime Minister who defended the Government's track-record, but said there is more work to do.
John set up The Jason Spencer Trust in his stepson's memory, who was stabbed and killed in Nottingham, after an argument over a ripped jacket.

He wants an immediate 5 year jail sentence for anyone caught carrying a knife.
LISTEN: A stepdad, whose son was stabbed 8 times, tells Capital people who carry knives are not warriors #KnifeCrime https://t.co/SCGIg9rOqY

— CapitalEastMids News (@CapitalEMNews) July 13, 2017
A Home Office spokesperson told Capital the government is constantly looking at what more they can do, including developing an anti-knife crime pilot for young people.
They say this will take place in a limited number of locations and if it proves successful may be extended to other areas.