Keith Vaz's Wife Forgives Him
11 September 2016, 06:34 | Updated: 11 September 2016, 06:40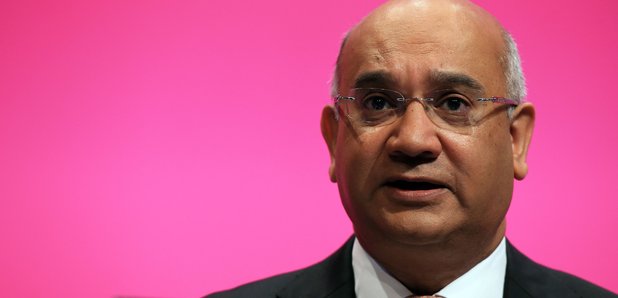 The wife of Leicester MP Keith Vaz has said she will eventually forgive him for cheating on her with male escorts, although she admitted she felt like smashing crockery over his head.
Maria Fernandes said she had decided to give the high-profile former minister a second chance, but warned he needs to change or ``I'll sling him out''.
Mr Vaz, 59, who has two children with Ms Fernandes, quit as chairman of the influential House of Commons Home Affairs Committee earlier this week.
Ms Fernandes told the Mail on Sunday the revelation that her husband of 23 years paid two male escourts had come ``out of the blue'' and was a ``complete shock''.
She said the Leicester East MP begged for forgiveness, saying he was ``very sorry'' and promising it would ``never happen again'' after he broke the news to her before the scandal was reported in the press.
``It was like an out-of-body experience, it was not real. There was a lot of things over the years, but this had not been one,'' she said.
``It was a terrible shock and I am still processing it ... Keith is not a bad person, he's just done a terrible thing. It's absolutely terrible because it's affected all of us, because it's affected the kids.
``But he's a good person, a good father, he's been a good husband and nine-tenths of the time he's got things right. This time he's fallen... badly.''
Police have said they will ``assess and identify what criminal offences - if any - may have been committed'' in the allegations, first reported in the Sunday Mirror.
Mr Vaz had a conversation regarding cocaine with one of the male escorts in which the MP said he did not want to use the drug but indicated that he would pay for it for the other man at a later date, according to the newspaper.
Marriage Guidance
Ms Fernandes, who was told about the situation on the Friday before the story broke, said she told the couple's 19-year-old daughter about it but their 21-year-old son was on holiday in Vietnam and did not find out for a further 24 hours.
Ms Fernandes said their daughter was ``very angry with her father, and I think she was angry for me'' but she was also ``worried about him''.
She added that over the next few days she experienced a range of emotions following her husband's ``betrayal''.
``I would have liked to have taken all my crockery and broken it on his head,'' she said.
``My immediate thought was to tell him to leave then have space to discuss things.''
But she continued: ``I've decided to forgive him. That's different to forgiving him right now. If I don't forgive him eventually, it is going to tear me up. It's going to destroy me and I don't want that. I don't like that feeling of anger and bitterness.
``Although I'm a lapsed Christian, there is still a Christian part of me that talks about forgiveness because you let go if you forgive. So from that point of view, yes, I've made the decision but how it will be done ... that's all to happen in the future.''
Ms Fernandes, a lawyer, said they would go to marriage guidance sessions.
She said she feared for Mr Vaz's mental health: ``He wanted to kill himself twice - once as Europe minister (when he was caught up in a scandal over passports) - and again now. He just wanted to die.''
She added: ``We've been happily married for a long time, we have two beautiful children, and we have a good life together, and he has threatened that by his behaviour. And if he does that again, then I'll sling him out.''