Kanye Fans Sit It Out Outside Nottingham Store For New Trainers
10 February 2017, 18:48 | Updated: 10 February 2017, 18:50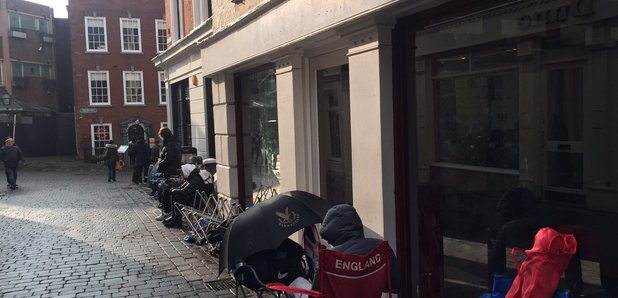 Trainer fans have braved up to three nights - and flurries of snow - to be among the first to get their hands on limited edition Kanye West shoes from a store in Nottingham.
The pairs of Adidas Yeezy Boost 350 V2, costing £150, are due to be released at 9am on Saturday from the 18montrose store in Nottingham.
Shoppers first arrived on Tuesday, with tents, chairs and sleeping bags lining up along Bridlesmith Gate in the city ahead of the launch.
Among those in the queue was Ben Rutter who had travelled from Manchester with friends to get his place in line.
The 17-year-old said: "We've been out here for a day or something now. It's been all right - I've got a high body temperature.
"(When I get the shoes), it'll be nice.''
Other so-called "sneaker heads'' have said the trainers could fetch up to three times their original value if auctioned online.
The black and red footwear is being sold on a first-come, first-served basis.
Describing it as "The first adidas x Kanye West drop of 2017'', the store has also set up an online raffle system to ensure fairness amid the high demand.
Such a frenzy surrounding West's merchandise is not uncommon.
Throughout 2016 people queued outside stores across the country as several batches of the limited edition shoes went on sale.