Five People Missing In Leicester Explosion Are Identified
27 February 2018, 11:49 | Updated: 27 February 2018, 12:10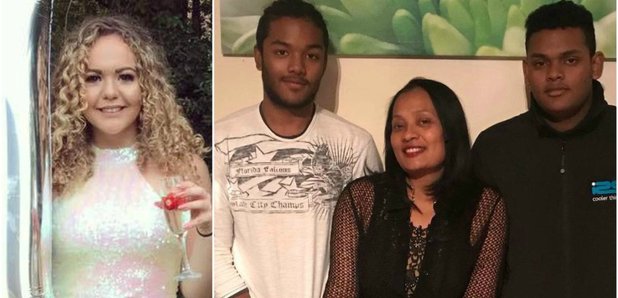 A mum, her two sons, one of their girlfriends and a shop worker have all been named by police.
After five bodies were recovered from the site of an explosion in Leicester, police have named five people who are missing.
Emergency crews were called to the Hinckley Road at 7pm on Sunday after a large explosion destroyed a supermarket and flat above.
Mary Rajoobeer, 46, and her two sons Shane, 18, and Sean, 17, who lived in the flat above the supermarket are missing.
Leah Beth Reek, 18, who is Shane's girlfriend, is also missing.
Also missing is 22-year-old Viktorija Ljevleva who is thought to have been working in the supermarket at the time of the explosion.
Leicestershire Police say "Human remains relating to five people have been recovered from the wreckage but given the devastation caused by the blast and subsequent fire, it may be some considerable time before the bodies can be formally identified.
The relatives of all five missing people have been informed and are being supported by specially-trained officers at this desperate time."
Five people were initially taken to hospital on Sunday night, one of which remains at the Leicester Royal Infirmary with life threatening injuries.
Emergency services are continuing with a rescue operation and are now investigating the cause of the blast.