Ex-Leicester MP Lord Janner Unfit To Stand Trial
7 December 2015, 12:44 | Updated: 30 March 2016, 13:50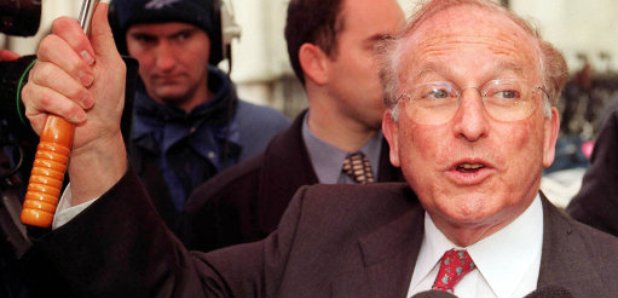 Lord Janner is unfit to stand trial for a string of sex offences against boys dating back 50 years due to ``deteriorating and irreversible'' dementia, a High Court judge has ruled.
Mr Justice Openshaw made his decision based on medical reports which found that the 87-year-old dementia sufferer could now barely recognise his own family or recall anything about his parliamentary career.
In a hearing at the Old Bailey, the judge summarised the reports from four specialists but said there was ``no need for personal humiliation over his condition''.
Even though the public had been ``unjustifiably sceptical'' over the case, he said they still had a ``right to know'' how he came to his decision about Lord Janner.
Greville Janner is charged with 22 sexual offences dating back to the 1960s against nine alleged victims, the majority of whom were 16 or under at the time.
There are 15 counts of indecent assault and seven counts of a separate sexual offence said to have taken place in the 1960s, 1970s and 1980s. Twenty-one of the charges relate to children who were aged 16 or under at the time.
In his ruling, the judge said the allegations of sexual offences against boys had spanned the years between 1963 and 1998 but it was not necessary to go into details at this stage.
The defendant was not required to attend court and a further hearing was set for March 7 ahead of a planned trial of facts in April.
The court heard that Professor Michael Kopelman, of the University of London, was first asked to advise the prosecution on whether Janner was able to answer police questions.
On February 19 2014, he reported that he could not name either his children or grandchildren, remember where he had been to school or university, or anything of his more recent professional or parliamentary life.
He had a very poor short-term memory, was forgetful of names and objects and became lost if unaccompanied, the court heard.
The professor diagnosed ``a degenerative dementia, currently of moderate severity, but rapidly becoming severe'' - a combination of Alzheimer's disease and vascular dementia.
The prognosis was for an inevitable, progressive and irreversible degeneration which would end only with his death.
A year later, on March 31 2015, Prof Kopelman reviewed the position.
He advised that ``Lord Janner would be unable to understand the charges against him, to comprehend that a juror could be challenged, to instruct his lawyers, to comprehend the details of evidence, or to follow and recall the court proceedings''.
On August 25, Dr James Warner, for the defence, graphically described the defendant's circumstances.
During cognitive testing he appeared ``perplexed and mildly irritable'', his speech was abnormal, with periodic slurring of words, some being incomprehensible, the court heard.
Detailing the report, Mr Justice Openshaw said: ``He exhibited a condition known as 'logoclonia', being the repetition of simple words. He then had only a limited vocabulary. Most of his answers were inappropriate to the questions asked; indeed, he gave virtually no coherent answers to the questions asked.
``He was often bewildered by simple requests, even when made in simple language and given repeatedly.''
Dr Norman Poole, also for the defence, reported in August that Janner's Alzheimer's disease was now ``advanced''.
He concluded: ``The defendant is now at an advanced stage of dementia. All his cognitive functions are impaired, particularly his memory and language functions, and consequently, he is unfit to plead.''
Dr Kate Humphreys, for the prosecution, saw the defendant in September and reported that his utterances were ``now reduced to a few stereotyped phrases'' and he was largely ``incomprehensible''.
In his final report of September 21, Prof Kopelman gave an account of the defendant's daily regime.
Quoting from his report, Mr Justice Openshaw said: ``He can now hardly speak, and when he does it is often only to make inappropriate repetitive statements.
``He can no longer read a book or follow the television, so he no longer watches. He scarcely recognises his own family and has entirely lost even his short-term memory. He is now unable to give any meaningful account of any aspect of his personal or professional history.
``There are further impairments involving memory, naming, attention, language, verbal fluency, visuospatial function and personal self-care.
``All the tests for cognitive examination have shown a progressive decline in the defendant's degenerative dementia which is incurable and irreversible.''
Mr Justice Openshaw concluded: ``The medical opinion is therefore all one way. The inevitable and irresistible conclusion is that the defendant had advanced and disabling dementia, which is deteriorating and irreversible.
``Accordingly I find that he is unfit to plead or to be tried upon this indictment.''