Derbyshire-based Sports Direct Defends Work Practices
10 December 2015, 12:54 | Updated: 30 March 2016, 13:50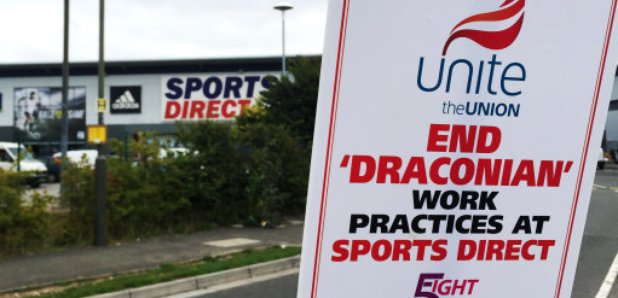 Under-fire Derbyshire-based retailer Sports Direct sought to defend its treatment of workers amid claims it puts staff at its warehouse through ``rigorous'' searches and pays less than the minimum wage.
The group, which is controlled by Newcastle United owner Mike Ashley, faces allegations in The Guardian newspaper claiming it forces compulsory unpaid searches taking around 15 minutes on staff as they leave, while also docking wages for clocking in just one minute late.
Sports Direct chairman Keith Hellawell admitted the group searched staff, but said it had recently cut back on the time it takes.
He also hit back at claims that the majority of staff are on ``zero hours'' contracts.
The Guardian sent undercover reporters to work at Sports Direct's warehouse in Shirebrook, Derbyshire, last month and alleges the group is so concerned about potential theft that it even asks staff to roll up their trouser legs and show the top of their underwear as part of compulsory searches.
The expose also said staff are harangued by a public address system for not working fast enough.
It follows a storm of protest from trade unions over staff treatment at the group's annual shareholder meeting in September, when claims over staff searches first emerged.
The latest controversy came as Sports Direct posted half-year results, showing a 3.6% rise in underlying pre-tax profits for the six months to October 25.
On reporting the figures, Mr Hellawell said: ``A number of issues were raised by shareholders at our AGM which we have addressed, for example the inconvenience experienced by some warehouse workers from the logistics of the security process when exiting the warehouse.
``Following a review the process has been streamlined which has led to a reduction in waiting time.''
He added that no warehouse workers are on zero hours contracts, but added casual workers in its shops ``find the flexibility offered by these arrangements very useful''.
``To be clear, no warehouse workers are on 'zero hour' contracts, all have contracted hours with the agencies,'' he said.
Sports Direct has been mired in controversy over its staff treatment and use of zero hours contracts in recent years, with unions earlier this year accusing it of ``Dickensian practices''.
But Mr Hellawell insisted while unveiling the group's interim results that casual workers were ``integral'' to its workforce.
The group was also under pressure on the stock market as shares plunged 12% at one stage after a disappointing half-year sales performance overshadowed its profits rise.
Sports Direct saw revenues edge 0.1% higher after being hit by a 12.2% tumble in sales in its premium lifestyle division, which includes Cruise, Flannels, Republic and USC.