Derby Cathedral Goes Ahead With Horror Screenings
20 August 2018, 19:08 | Updated: 20 August 2018, 19:10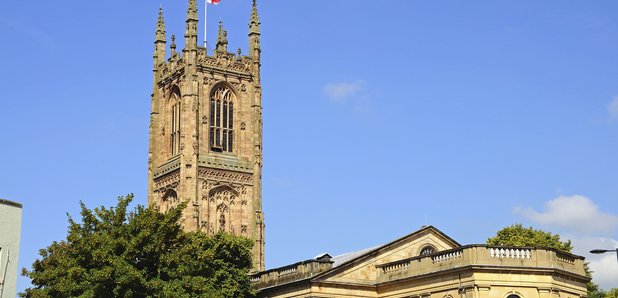 Despite complaints the Dean of Derby says showing horror films does not compromise the cathedrals holiness.
Derby cathedral is pressing ahead with plans to show two "not for the faint-hearted" horror films and Monty Python's Life of Brian on an inflatable big screen, despite opposition from some church wardens.
The Dean of Derby, The Very Reverend Dr Stephen Hance, said the decision to host the city's QUAD cinema's Fright Club and other films in the nave would not compromise the cathedral's holiness.
Critics of the plans have claimed 1970s classics The Wicker Man and Don't Look Now are inappropriate for a place-of-worship because of a graphic nude sex scene and themes of paganism.
Other films on the list for Derby Cathedral include Sister Act and The Greatest Showman.
But the cathedral is looking to go ahead with the plans, despite admitting some of them will not be "to everyone's taste" and will "provoke comment and engagement".
Dr Hance said: "We are looking forward to welcoming all those who want to enjoy these diverse special screenings and my hope is that it will encourage the people of Derby and Derbyshire to discover their cathedral.
"Not all the films will be to everyone's taste and some of them will provoke comment and engagement with serious issues, which is to be encouraged.
"For example, as well being a great film and example of superb story-telling, The Wicker Man is the story of a Christian martyr."
Dr Hance added: "Every culture tells stories to help it think about what it believes, and one of the primary ways our culture does this is through film.
"I believe people will be helped to think in relation to some powerful and sometimes disturbing movies, and the screenings will help to release other much-needed resources for the mission and ministry of the Cathedral in the city."
Dr Hance then told the BBC's East Midlands Today: "I don't think that we are going to be showing God anything that he hasn't seen before.
"And the stories are actually really powerful stories about faith and doubt, about some of the things that people wrestle with."
Dates have been set by the Quad for screenings of The Wicker Man and Don't Look Now on September 7 and 8 which will cost £13 and £11 for concessions.
Future dates of the screenings of Life of Brian and Sister Act are expected to be announced in due course.