Cyber Attack: How Is The East Mids Affected?
15 May 2017, 13:27 | Updated: 15 May 2017, 15:00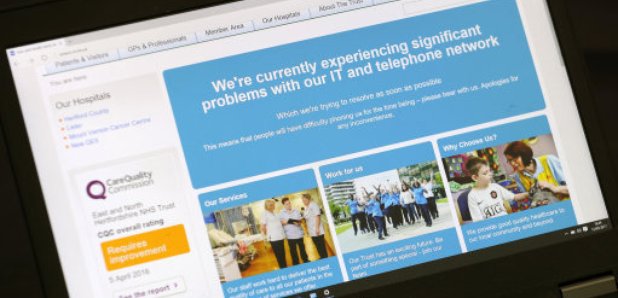 Patients across the East Midlands have had their appointments cancelled after a worldwide cyber attack hit the NHS.
Hospitals in Lincolnshire were the only ones in the East Midlands directly affected by the hack, but others are also telling patients not to turn up for some scheduled appointments after shutting down their servers as a precaution.
GP practices across the region have also been affected by the malicious software - which threatens to delete patients' files unless payment is received.
United Lincolnshire Hospitals NHS Trust: All appointments, including endoscopies, CT and MRI scans, as well as planned operations for Monday have been cancelled at Grantham and County hospitals in Linconshire, after their systems were infected with the malicious software.
The CEO says extra staff worked through the night to get their servers back online - describing the process as a 'long haul'
The latest update on the cyber attack. pic.twitter.com/daNtCBKBpT

— NHS United Lincs (@ULHT_News) 15 May 2017
Sherwood Forest Hospitals NHS Trust shut down their servers as a precautionary measure to stop contagion, and are offering a limited service over the weekend with only planned operations and a limited number of outpatient clinics available.
Scheduled appointments for CT, ultrasound and MRI scans at King's Mill Hospital, in Sutton-in-Ashfield were cancelled at the weekend.
LISTEN: Dr Haynes @SFHFT says things are getting back to normal after closing systems as a precaution #cyberattack https://t.co/UcI2TGp3ri

— CapitalEastMids News (@CapitalEMNews) May 15, 2017
Nottinghamshire Healthcare NHS Foundation Trust, which delivers the county's mental health services, also tweeted to say it is also having problems with its phone lines and emails.
All A&E departments are back open across the East Midlands but every NHS Trust is asking people not to visit A&E unless their condition is life-threatening, as they deal with the fallout from the attack.
Nottingham City GP Alliance, say ALL GPs in the city have been affected with systems shutdown today:
All city GP practices have been instructed by Nottingham City Clinical Commissioning Group (CCG) to keep all IT systems shutdown today whilst a robust plan is devised to counter the ransomware that has impacted systems all over the world.
#Nottingham GPs are open but can't book appointments, medical records, repeat prescriptions, test results / blood test requests #CyberAttack pic.twitter.com/GuPAkih7G4

— CapitalEastMids News (@CapitalEMNews) May 15, 2017
Burton Hospitals, say to attend as normal if you have a planned outpatient appointment or procedure today. We have not cancelled any appointments.
Our systems are a bit slower today as we continue to manage the precautionary measures taken to guard against #cyberattack

— Burton Hospitals (@BurtonHospitals) 15 May 2017
All services at Leicester's three hospitals are operating as normal, and those run by Nottingham University Hospitals NHS Trust have also not been affected.
Derbyshire Community Health Services say they weren't directly hit - but as a precaution switched off the IT systems
Patients should still come for appointments @DCHStrust while we resolve remaining IT issues #BusinessAsUsual

— DCHS NHS FT (@DCHStrust) 15 May 2017
"Services to patients haven't been unduly affected, but we've gone 'back to basics' for some tasks - so you might find things take a little longer than they would normally if we're handwriting for instance!
There's no evidence to suggest personal patient data has been affected and NHS Digital is working closely with the National Cyber Security Centre, the Department of Health and NHS England to support affected organisations, ensure patient safety is protected and to recommend appropriate actions.
Our decision to 'pull the plug' early on systems that leave us vulnerable to attack is so far paying off and we hope it won't impact patient care and services. Thanks for your patience and support."