Coroner Says Notts Stroke Death Avoidable
27 February 2017, 17:09 | Updated: 27 February 2017, 17:21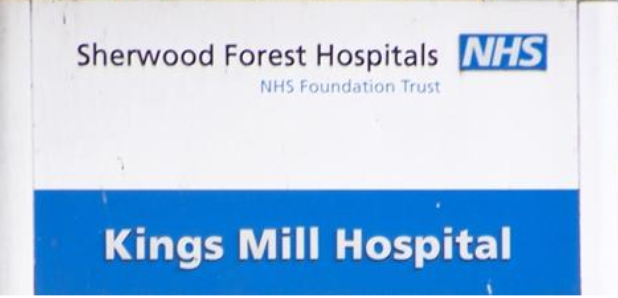 A woman died from a stroke due to a shortage of intensive care beds after doctors were left trying to "broker a deal'' with other hospitals.
Teresa Dennett, 58, died just a week before her birthday from a rare type of stroke - but a coroner has ruled her life could have been saved if she had been operated on in time.
Nottinghamshire assistant coroner Heidi Connor has now written to NHS England's chief executive, Simon Stevens, saying other lives could be at risk due to the same failings.
She also said there was no clear process for referring patients to specialist centres, with "valuable time'' being lost while doctors ring round trying to find somewhere for patients to go.
The case echoes that of 57-year-old Mary Muldowney, who died from a brain haemorrhage after at least three hospitals refused to admit her for surgery because they had no intensive care beds.
Another coroner ruled that Ms Muldowney would also probably have survived if she had been given immediate life-saving surgery to stem the bleeding.
In the latest case to come to light, Ms Dennett, who had a son, was admitted to King's Mill Hospital, run by Sherwood Forest Hospitals Foundation Trust, at 9.20am on February 6 last year.
She was diagnosed as having had a stroke and was initially observed.
However, scans showed she had a type of stroke that could lead to sudden deterioration, requiring neurosurgery to relieve pressure.
King's Mill Hospital usually refers patients to Nottingham University Hospitals Trust for this surgery but consultants there advised at around 4pm that she she should be observed. They said to contact again if she got worse.
A further CT scan at around 9pm showed increasing pressure in Ms Dennett's head.
A consultant at Nottingham who looked over the scans advised that Ms Dennett should indeed be sent to Nottingham for urgent decompressive surgery.
However, this was blocked by an intensive care consultant who said all the hospital's intensive care beds were full with no likelihood any would become available soon.
At the inquest, this consultant said he had already transferred his least sick patient to make room for another, while another patient needing an intensive care bed was being kept in theatre recovery area.
Doctors were advised to ask Sheffield Teaching Hospital to take Ms Dennett but while registrars at that trust were willing, a consultant there insisted she should be treated in Nottingham.
The inquest was told a Freedom of Information Act request by her family found the hospital had surgeons and eight intensive care beds available.
In desperation, an on-call stroke doctor at Nottingham was contacted and it was agreed that Ms Dennett was a clinical priority and she should be transferred to Nottingham, even if an intensive care bed had to be found elsewhere following the surgery.
But by then it was too late. By 3.30am Ms Dennett had deteriorated too much for surgery and she died later that morning.
Coroner Ms Connor's report said: "The evidence of three consultant neurosurgeons at the inquest was that if the operation had been carried out, then on the balance of probabilities, Teresa would have survived, albeit with ongoing neurological disabilities.''
She found that even if Sheffield had accepted Ms Dennett, she believed it was unlikely Ms Dennett would have survived given the time that had elapsed by then.
But she said the consultant in Sheffield who refused Ms Dennett had made no attempt to find out why Nottingham could not take her.
He also claimed he did not know where King's Mill Hospital was, although he accepted it was in Nottinghamshire given that he had advised that Nottingham should take her.
The inquest also heard that the Mid Trent Critical Care Network policy only allows for patients to be admitted regardless of intensive care bed numbers under three specific scenarios - none of which applied to Ms Dennett.
The coroner said: "Crucially, it was clear there was no written protocol in place to set out a clear pathway for referral for emergency neurosurgery.
"The medical registrar at King's Mill Hospital was left trying to broker a deal with multiple neurosurgery units and valuable time was lost in this process.''
In her letter to Mr Stevens, she said "there is a risk that future deaths will occur unless action is taken''.
Overall, she ruled that "attempts were made for (Ms Dennett) to be transferred for urgent neurosurgery but this did not happen.
"If an operation had taken place before her final deterioration at around 0330 on February 7, then it is likely she would have survived, albeit with ongoing neurological disabilities.''
An NHS England spokeswoman said: "The coroner's report makes clear there were in fact eight intensive care beds available at the time in Sheffield where the patient could appropriately have been treated, but the decision not to do so was made by a senior consultant neurosurgeon there.
"Furthermore, figures out just this week show that rather than cutting beds, there were also more adult and children's critical care beds this January than a year ago, and at 84.6%, bed occupancy is lower than in January last year.''