Cause Of Fatal Mansfield Fire Unknown After Inquest
30 July 2016, 09:07 | Updated: 30 July 2016, 09:09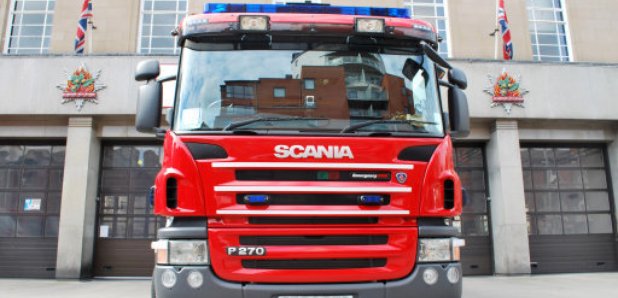 A house fire which led to the death of a Nottinghamshire man was either electrical or caused by an open fire, a court heard.
An inquest heard that Mr William Cartwright, aged 68, died of smoke inhalation after the fire at his home in April this year where structural collapse concluded that a specific cause could not be identified.
The conclusion came at a hearing at which Assistant Coroner Miss Amanda Cranny heard evidence that Mr Cartwright burnt coals and wood on an open fire and kept a range of electrical items and appliances in his home.
Crews from Mansfield, Ashfield and Warsop were called to the fire at 1:48am on Wednesday 13 April 2016, and initially had to be led down the street by torchlight due to the large amounts of smoke.
Fire crews spent three days at the scene before recovering Mr Cartwright's body on Friday 15 April after an extensive search which at one point saw 25 firefighters searching through rubble and debris.
The court heard evidence from Fire Investigation Officer Kevin Poxon who explained that the structural collapse of the loft and first floor into the ground floor of the property meant that structural engineers had to be brought in to assess the safety before crews could enter.
He added that it was not known if Mr Cartwright's home was fitted with smoke alarms.
Assistant Coroner Amanda Cranny thanked fire crews and other agencies involved in the incident for their 'delicate and careful' handling of the fire and subsequent search for Mr Cartwright.
Giving her narrative conclusion, she said: "William Leslie Cartwright died on 15 April 2016 in a fire at his home in Mansfield. There was no evidence that the fire was started deliberately, and the cause of the fire remains unknown."
She added: "I note that meticulous care was taken by firefighters, Nottinghamshire Police and also the demolition team. I commend the fire service on carrying out such a protracted operation while still serving the rest of the county.
"I also note from evidence that the local community were very supportive over the three-day period until Mr Cartwright was discovered. There was a lot of disruption and I commend the community on being supportive and showing community spirit in this situation."
As a result of the inquest, Nottinghamshire Fire and Rescue Service (NFRS) is urging locals to take a few minutes to evaluate their fire safety methods.
Group Manager Bryn Coleman, Head of Prevention at Nottinghamshire Fire and Rescue Service, said: "This was a tragic incident and we would like to express our condolences to the family of Mr Cartwright.
"As the ruling of this inquest shows, sadly, fire can have fatal consequences and we would like to urge the public to do all they can to protect themselves by making themselves aware of fire safety measures.
"Taking the time to install and check your smoke alarms and those of your family members means you have a better chance of being aware of fire in the home allowing you more time to leave your property and alert the emergency services.
"Alternatively, you can request a home safety check from your local fire station, who will assess any potential risks in your home and fit smoke alarms if required."