£30,000 Derby Drug Dealer Gets Five Years In Jail
24 December 2014, 14:04 | Updated: 30 March 2016, 13:50
A man arrested in Chaddesden on drug and money laundering charges has been given five years in jail after a sentencing at Derby Crown Court.
Kevin Opoku-Ware pleaded guilty to having Class A drugs, along with possession with intent to supply heroin, for which a five year sentence was handed out on Monday.
The 29 year old who lives in London possessed £30,000 gained through illegal activity, and was also charged for having criminal property.
Officers found more than £300 inside his bag, along with a shoebox full of cash and over 500 grams of heroin upon a search after he left a taxi in Chaddesden in October.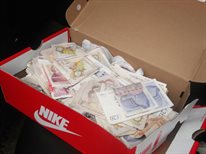 The arrest was part of a wider police campaign called Operation Arkham,which investigates organised crime groups in the area.
A Police spokesman who leads the operation said: "We are determined to tackle drug dealers who profit from the addiction of others."
"The drugs were no doubt destined to hit the streets of the city and probably across the county. I'm delighted that he was arrested before he could begin to distribute the heroin.
He added that the case is proof that "these offences are taken very seriously by the courts."