Safon Glendid Gorau Tecawes Gogledd Cymru
28 November 2016, 07:08 | Updated: 28 November 2016, 07:09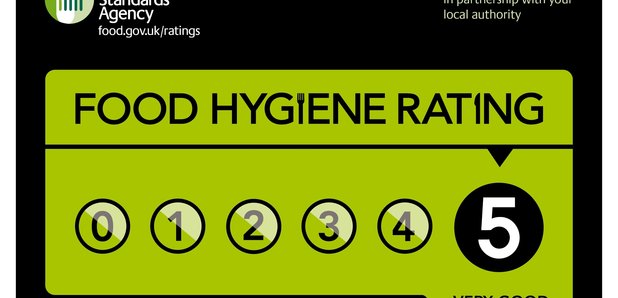 Mae rheolau yn gorfodi tecawes i hybu ei safonau glendid heddiw ar ei fwydleni ac ar lein hefyd.
Mae'n union yn tair blwyddyn ers i Cymru ddod yn y wlad cyntaf ym Mhrydain i creu cynllun graddiau glendid. Gwnaeth Gweithred Gradd Glendid Bwyd (Cymru) 2013 gwneud hi'n gorfodol i bob busnes bwyd - fel bwytai, caffis, siopau, gwestai a tecawes i ddangos ei graddau glendid yn gyhoeddus.
Mae'r cynllwyn wedi dangos i fod yn llwyddianus iawn yn codi'r safon o bwyd a lanweithdra. Mae'r ffigyrau newydd yn dangos fod 94% o busnesau yng Nghymru nawr hefo gradd 3 neu fwy, hefo 62.5% o busnesau bwyd Cymru hefo'r dosbarth fwyaf, sef 5/5 (Da iawn).

I gymharu, ychydig cyn i'r cynllun dod i pwer yn Tachwedd 2013, roedd 87% o busnesau bwyd Cymru hefo dosbarth o 3 neu fwy, a'r nifer o busnesau hefo 5 seren yn 45%.

O heddiw ymlaen, os fydd taflen tecawe yn dangos bwyd ar werth, prisie neu ffordd o cysylltu a'r lle, fydd rhaid iddo dangos dantganiad dwy-ieithog i cefnogi pobl i edrych ar y graddiau glendid cyn prynnu'r bwyd. Fydd y datganiad yn hefyd dweud wrth cwsmeriaid i gofyn i'r busnesau am ei gradd glendid dros y ffon.
Dywedwyd y Weinidog am Gwasanaethol Cymdeithasol a Iechyd Rebecca Evans:

"The food hygiene scheme has been one of the great success stories of made-in-Wales legislation. It has been key to driving up standards in restaurants, pubs, cafes and other food businesses across Wales.

"I am delighted that since the start of the scheme, 7% more food businesses now have a satisfactory rating or higher, and 17.5% more businesses now boast the maximum 5 rating. This progress is something everybody involved in the scheme, including food businesses, should be very proud of.

"The new rules coming into force today are designed to offer extra protection to customers ordering food over the phone, or online, who will not have the opportunity to see the rating physically displayed in the premises before ordering. The display of the statement on leaflets will encourage consumers to view the rating online and to ask the takeaway food business for their food hygiene rating over the phone before ordering."