M6 Roadworks, Birmingham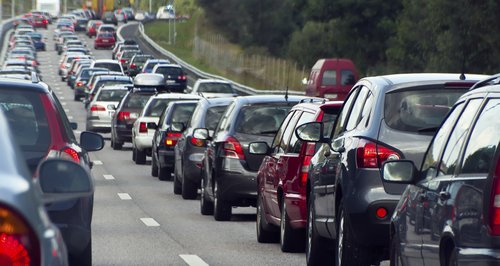 Details of the major roadworks on the M6
From January 5th - May 28th
M6 Junction 8 to M5 link
What's Happening?
One lane is closed from M6 J9, Wednesbury onto the Southbound M5 Link at J8. This means that the entry slip road at J9 Southbound is also closed for the duration of the roadworks. There are also some overnight closures of J8 to upgrade traffic management. A 50mph speed limit will be in place throughout the works.
What's The Effect?
We've seen heavy traffic on surrounding routes throughout Walsall, Wednesbury, Great Barr, Willenhall and West Bromwich, as people look to join the motorways at alternative junctions.
The Black Country Route Eastbound, the Walsall Ring Road, A34 Southbound towards J7 of the M6 and the A41 through West Bromwich towards J1 of the M5 are the worst affected routes.
What's The Advice?
Queues on the M6 are happening everyday and haven't been helped by a series of accidents and breakdowns in the roadworks area. Best advice is to leave earlier as all alternative routes are struggling to cope, particularly with the addition of work at Spaghetti Junction.
From January 11th - 31st July
M6/A38 Gravelly Hill Interchange Waterproofing Schemes
What's Happening?
The slip roads between the M6 and Salford Circus are closed. Traffic is being diverted onto the Aston Expressway to then join the M6 from the Expressway's slip roads, which remain open, but with one lane closed. A 30mph speed limit is in place throughout the works. There may be some overnight closures during the work period.
What's The Effect?
If you're coming from Erdington or Gravelly Hill towards the M6 expect quite long delays during the morning rush hour. Traffic on the M6 itself does not seem to be too affected by the works.
The diversion routes are also very heavy, with the approach to J5 of the M6 at Castle Bromwich particularly affected.
The A38 was one of the major routes affected by delays, with a long delays reported on day one between the M6 Toll and Minworth Island.
What's The Advice?
If you're heading South from Sutton Coldfield and usually use the M6, it would be worth considering the M6 Toll as an alternative route, or heading directly to the M42 to avoid the queues onto the M6 at J5.
If you're heading into Birmingham, use your usual route but expect delays.
If you usually go from Erdington onto the M6 at Spaghetti, you can either:
- Use the Aston Expressway and turn back on yourself at the first opportunity
- Follow the diversion via Lichfield Road to the Aston Expressway and return northbound to the M6.
- Travel to J5 or J7 to continue your journey, but remember people diverting from J9 may also be using J7 to get onto the M6 Southbound.