WMP Keeps Foot On The Gas In Drink-Drive Crackdown
10 December 2018, 13:17 | Updated: 10 December 2018, 14:29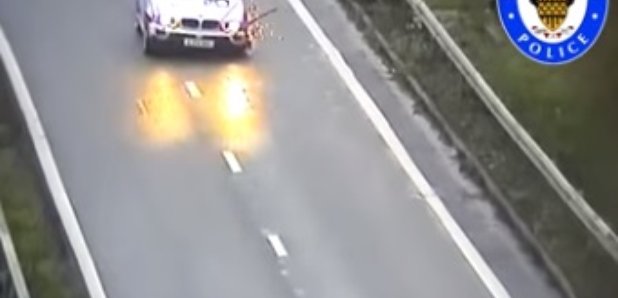 West Midlands Police have released shocking footage of drink drivers busted in the build up to Christmas as the festive season gets into full swing.
One clip shows a driver narrowly avoiding oncoming traffic and parked cars in broad daylight in Great Barr, Birmingham, while another features a driver on the M42 trailing sparks from a missing wheel and back tyre before crashing into the barrier.
Both men admitted to the offences they were charged with and have been bailed ahead of sentencing in January.
Sergeant Jon Butler, from WMP, said: "We can only hope the message gets through that there are real dangers to getting behind the wheel while under the influence of drink or drugs.
"This is both to drivers and other innocent members of the public."
The first driver, a 35-year-old, was first spotted by officers at around 10.45am on Sunday December 2.
He was driving without a front tyre and with the hazards lights flashing, swerving on both sides of the road and just missing other cars.
He was found to have more than four times the legal limit of alcohol in his system for driving and admitted to drink driving, dangerous driving and having no licence or insurance.
The 24-year-old driver on the M4 was seen at 8am on the same day and admitted to dangerous driving, disqualified driving and failing to provide a breath specimen.
Sergeant Butler said: "We have a zero tolerance approach and our officers are out there 24/7 to catch those who risk the safety, and lives, of themselves and innocent others.
"Drink driving is unacceptable and we will catch and prosecute those who break the law."
The DrinkAware Trust recommends people should not drink any alcohol if they know they are going to drive later and estimated that between 2010 and 2015 there were 36,900 reported drink-drive accidents and 1,410 reported deaths caused by drink-driving accidents.