Walsall Mum Fights For Meningitis Vaccine After Son Is Left Disabled
19 February 2016, 16:15 | Updated: 30 March 2016, 13:50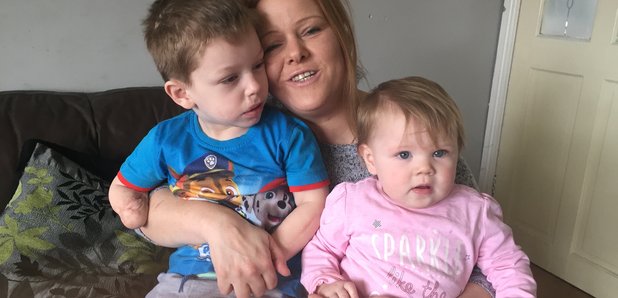 A mum from Walsall's told Capital she's been fighting to get a Meningitis B vaccine for her daughter after her son lost both legs and an arm to the disease.
An online petition calling for all children to be able to get the jab has become the most signed petition there's ever been on Parliament's website.
At the moment only those born after May are eligible. The petition has more than 589,000 signatures and counting:
https://petition.parliament.uk/petitions/108072
Supporters rallied following the death of two-year-old Faye Burdett, from Maidstone, Kent, who died on Valentine's Day after fighting the infection for 11 days.

A harrowing picture of Faye lying in a hospital bed just before she died was released by her family and helped spur on the campaign.
Julie Tuckley's daughter Georgie is 11 months and too old to get the vaccine and she's told Capital she's so glad people are taking notice.
Faye's parents, Jenny and Neil, said the response to the petition since the toddler contracted meningitis B has been "overwhelming".

They said: "We thought long and hard about the release of Faye's pictures but we as a family who have been through the devastation of meningitis feel all children should be able to get protected from this cruel disease that took our daughter.

"It's not just about Faye's death but also about the maiming of children that do survive the disease. It is life-changing for the child and its family. Prevention must be better."

The plight of meningitis sufferers was raised further this week when ex-England rugby captain Matt Dawson told how his two-year-old son Sam battled meningitis C.

He is now well and back home with his family but Dawson said he felt "absolutely helpless" as he lay hooked up to machines in hospital.

A vaccine to protect against meningitis B is available on the NHS for babies aged two months, followed by a second dose at four months and a booster at 12 months.

Parents who wish to have older children vaccinated must pay privately, although a worldwide shortage of the vaccine Bexsero means stocks are very low.

Manufacturer GlaxoSmithKline (GSK) hopes to have increased stocks in the UK by the summer. The NHS programme is unaffected.