Two Birmingham Men Jailed For Trying To Travel To Syria To Fight
7 November 2016, 17:46 | Updated: 7 November 2016, 17:56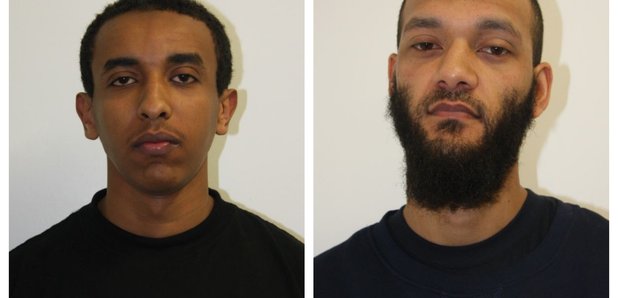 Two men from Birmingham have been jailed for close to 10 years between them for trying to travel to Syria to fight.
Anas Abdalla was found guilty at the Old Bailey in London on 13 October following an almost six week trial. A second man, Gabriel Rasmus, pleaded guilty to the charges at an earlier hearing.

Abdalla was sentenced to five years and Rasmus was sentenced to four years and three months in prison.

The court heard how Rasmus, 29, from Chain Walk, Lozells and Anas Abdalla, 26, of Fox Hollies Road, Acocks Green planned their travel to Syria in a bid to join Islamist rebel forces.

An extensive surveillance and undercover operation provided vital information on the groups plans.

The two were arrested at 7.45am on Friday 3 April 2015 at the Port of Dover in Kent; a third man - Mahamuud Diini - was arrested and charged but was found not guilty earlier this year.

Their meticulous plans for travel were evidenced by several purchases of outdoor equipment by Rasmus - walking boots, night scope telescope, a compass, head torch, a route planner, vitamins and thermal drink flask.

They had travelled to London in a taxi, meeting up with the lorry driver in a lay-by before hiding in the back of the lorry in an attempt to smuggle themselves out of the country.

Their plan was foiled when detectives instructed ports officers to check the lorry, they were found lying on the floor dressed in winter coats and each had a rucksack.


Following the arrests, searches at their homes also revealed extremist ideological material on computers and USB's as well as evidence of a number of online searches they had undertaken to help them plan.

Counter terrorism detectives believe that once in Europe their plan was to travel through Albania or Bulgaria to Greece, Turkey and into Syria.

ACC Marcus Beale, Counter Terrorism Lead for West Midlands Police, said: "Today's sentences send a clear message to hopefully deter anyone planning to travel to Syria to join Daesh.

"As part of this investigation, extensive surveillance and undercover activity was used. They were unknowingly being monitored by our officers who swooped as they attempted to leave the port.

"We will use every lawful technique and power available to us to prevent people from travelling to Syria.

"If anyone is concerned that a friend or family member is thinking of travelling to Syria it is very important that they tell us as soon as possible. Police and other agencies can offer support to help safeguard those who are vulnerable to radicalisers.

"The sooner we can intervene, the better chance we have of preventing people from becoming embroiled in the conflict and facing potential prosecution."