Towpath Robberies: Police Search For Two Men
4 August 2013, 10:53 | Updated: 30 March 2016, 13:50
Police are hunting two canal robbers who are believed to have struck three times on Birmingham city centre towpaths.
In the worst attack slashing a man across the face with a craft knife.
The pair attacked a man along the Digbeth Branch Canal at around 5.15pm on June 5 and lashed out with the blade during a struggle. They stole the 29-year-old's watch and left him with a nasty gash to his face, plus cuts to his hands and stomach.

It's understood the thieves failed in another robbery attempts just 15 minutes earlier − again threatening a man with a yellow-handled craft knife − but walked off empty handed after being disturbed by a passer-by.
And their descriptions match that of two knifemen who threatened another towpath walker the previous day − 12.15pm on June 4 − and escaped with his wallet and mobile phone.
The offenders are believed to be Middle Eastern in appearance with light tanned skin. One is seen on CCTV footage wearing glasses with large, square lenses and a black baseball cap − he is described as being in his mid-to-late 30s, 5ft 9ins tall, medium build, with a shaved head and dark stubble.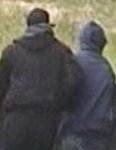 In the June 5 attacks he was wearing a distinctive black jacket with red piping on the back forming an inverted V shape, white stripes on the shoulders and down the arms, plus red lining inside the hood.
His accomplice is described as being in his late 20s or early 30s, slightly shorter at 5ft 7ins, and with a shaved head; he was wearing a blue baseball cap and grey hooded-top with dark stripes down the arms.
Investigating officer Michelle Phillips, said: "On all three occasions the victims have been assaulted and threatened with a craft knife...these are brazen attacks in the middle of the afternoon on city centre canal towpaths.
"We're convinced the three incidents are linked: there are striking similarities between them both in terms of the offenders' descriptions and the tactics used.
"We have some distinctive descriptions − one was wearing glasses with thick square lenses − and both are Middle Eastern in appearance.
"If anyone believes they recognise the men, or thinks they may have seen them in the city centre, I'd urge them to call me urgently."
Anyone with information is asked to call DC Michelle Phillips at Birmingham CID on the 101 number, or the independent charity Crimestoppers anonymously on 0800 555111.