"Superstar" Mylee Remembered At Brownhills Funeral
24 April 2018, 18:24 | Updated: 24 April 2018, 18:26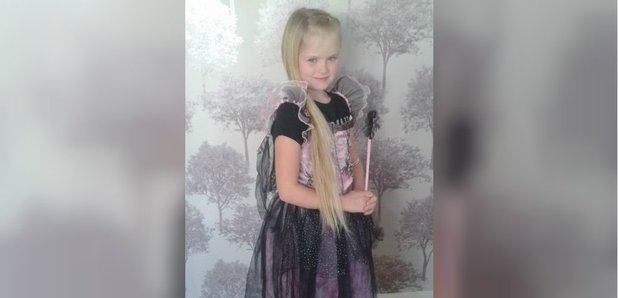 Hundreds of mourners have gathered to remember eight-year-old Mylee Billingham in Brownhills.
The funeral of the primary school pupil at St James Church was told that she loved performing stunts on her bike and had a big impact on her friends and teachers.
Those attending the service were invited to wear "bright and beautiful" clothing in memory of Mylee, who died in hospital in January after allegedly being stabbed by her father, William Billingham.
Hundreds of pink and blue ribbons had been tied to railings, lampposts and trees around Brownhills by well-wishers as a tribute to Mylee, whose coffin was brought to the church in a horse-drawn carriage.
The horse drawn carriage that carried the coffin of an eight year old girl described as a "superstar" with "a love for life"

Mylee Billingham was stabbed to death in January - her dad has been charged with her murder and will reappear at #Wolverhampton Crown Court next month pic.twitter.com/wChJcIntSe

— Charlotte Winfield (@JournoCharlotte) April 24, 2018
During Tuesday's service, the Reverend Dave Bishop praised members of the local community for the love and support they had shown Mylee's family, including her mother Tracey Taundry, in recent weeks.
The clergyman, whose remarks were relayed to mourners outside the church via a loudspeaker, said: "We are here today filled with a mixture of emotions to remember a young lady who, though her life was so all too brief, lived life to the full.
"We may be sad, grieving and at a loss but we must not forget that we are also here to remember and celebrate that she loved her life and that she crammed so much into it.
"Mylee loved to sing and dance, she loved the outdoors and would do all kinds of stunts on her scooter and bike - acquiring a chip in her tooth in the process."
The vicar added: "Jesus, in the Bible, reminds us that He came that we might live life to the full. And Mylee did just that.
"Though we will miss Mylee painfully so, Jesus will help each of us to face each new day. It won't be easy but I know that with God's help we can.
"And we will have each other. The way in which this community has come together is demonstration of this."
Mylee's father has been charged with her murder and making threats to kill her mother and is due to re-appear at Wolverhampton Crown Court next month.
The schoolgirl was pronounced dead in hospital after being found with knife wounds at her father's bungalow in Valley View, Brownhills, on January 20.
Hundreds of mourners gathered at St James' Church in #Brownhills earlier to say goodbye to 8yo Mylee Billingham - who was stabbed to death in January. #CapitalReports pic.twitter.com/9DTWsa0cLY

— Capital Brum News (@CapitalBIRNews) April 24, 2018