Rally Held In Birmingham For Jailed Royal Marine
16 December 2015, 17:15 | Updated: 30 March 2016, 13:50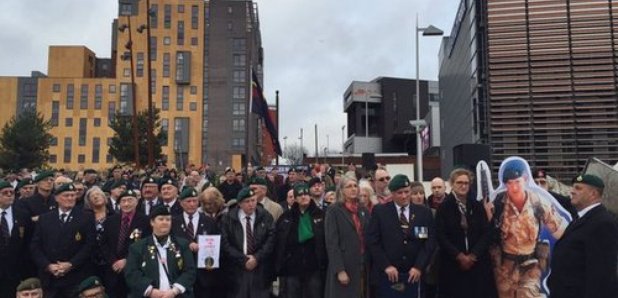 Papers have been handed in in Birmingham calling for an appeal over the conviction of a Royal Marine jailed for murdering a Taliban fighter.
Claire Blackman, wife of Sgt Alex Blackman, said legal documents being handed to the independent Criminal Cases Review Commission (CCRC) in Birmingham were key to getting the case reheard.

She said: "It's a strong application. There are a considerable number of new points of evidence or evidence of flaws in the original case, so we're cautiously optimistic.''

The 44-year-old was speaking at a Justice for Marine A rally in the city, where the CCRC offices are based.

Organisers estimated about 200 people - mainly veterans - gathered in Birmingham's Eastside Park in a public show of support for Blackman, among them author Frederick Forsyth.
The 41-year-old marine was given a life sentence after being convicted of murdering the wounded Afghan captive in Helmand province in September 2011.

Blackman, who was serving with Plymouth-based 42 Commando, quoted Shakespeare as he shot his victim in the chest at close range with a 9mm pistol after the Afghan had been seriously injured in an attack by an Apache helicopter.

Footage from another marine's helmet-mounted camera showed Blackman shooting the Afghan prisoner.

He then turned to comrades and said: "Obviously this doesn't go anywhere, fellas. I just broke the Geneva Convention.''

During the trial at Bulford Court Martial Centre in Wiltshire two years ago, Blackman was known as Marine A.

He denied murder, saying he believed the victim was already dead and he was taking out his anger on a corpse.

Blackman, of Taunton, Somerset, was convicted of murder and jailed for a minimum of 10 years.

His conviction challenge was rejected by the Court Martial Appeal Court, although his minimum term was cut to eight years because of the combat stress disorder he was suffering at the time of the incident.