Police Investigate After West Brom Fan Throws Coin At Player
21 February 2016, 09:21 | Updated: 30 March 2016, 13:50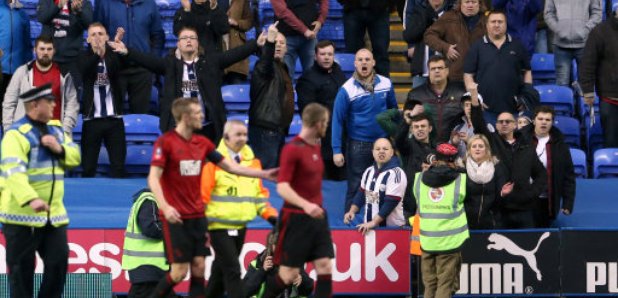 Police say they are investigating an incident in which West Bromwich Albion's Chris Brunt was hit by a coin after his team lost 3-1 to Reading.
The 31-year-old Northern Ireland international suffered a cut under his left eye after he was pelted by the 50p piece - which he claimed was thrown by his own team's fans.
West Brom boss Tony Pulis claimed Brunt could have been blinded by the assault.
Brunt described how he had seen a young girl in the crowd and gone towards the fans to give her his shirt when he was hit.
He said the team's FA Cup fifth-round exit may have angered supporters, but added that was no excuse for what happened.
"Obviously there's some people in the front who were angry, understandably, because we didn't play well or get the result we wanted," he said.
"But there's absolutely no excuse for that and no place for it in football. I've been here a long time. Obviously we all get our fair share of stick, but to be hit with a coin by your own fans is absolutely disgusting."
He offered to meet the person who threw the money, and added: "I've been here a long time and I've loved my time here and that's the first time I've been ashamed of our supporters.
"A small minority obviously ruined it for the rest of the 4,000 who were there and paid good money for a day trip."
Former England captain Alan Shearer said the incident was "disgusting", while Harry Redknapp described it as "cowardly".
A Thames Valley Police spokesman said: "The incident will be dealt with as an assault and we will be working with West Bromwich Albion and Reading to resolve the issue and identify anyone involved."
The Football Association also said it was investigating.