Police From Birmingham Forced To Sleep In 'Disgusting' Accommodation
12 July 2018, 17:53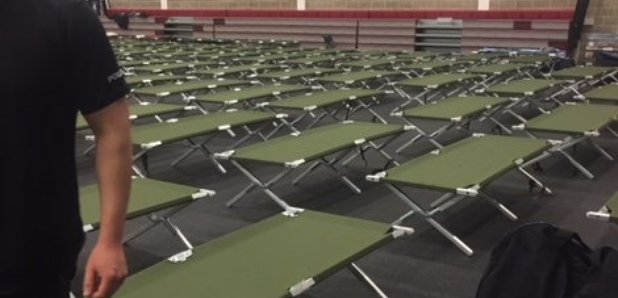 The region's PCC said the "unacceptable" sleeping conditions for police securing Donald Trump's visit to the UK is an "absolute disgrace".
Capital's been told accommodation given to some of the 400 West Midlands Police officers covering the visit of President Trump "is like a refugee camp".
West Midlands Police and Crime Commissioner, David Jamieson, says idea that campbeds in a sports hall is enough is "disgusting".
Pictures have been uploaded on Twitter and Facebook showing cramped lines of camp beds filling a gymnasium and sleeping mats on the floor of a squash court, for officers to rest on after working shifts of up to 15 hours, during the US President's trip.
It's understood they also have no hot water and restricted access to warm food.
.@WestMidsPCC's told #CapitalReports the accommodation provided to some @WMPolice officers helping out with the #Trumpvisit is an "absolute disgrace."

Photos have emerged of officers sleeping on camp beds in sports halls. pic.twitter.com/rnmHAwnUBn

— Capital Brum News (@CapitalBIRNews) July 12, 2018
The Police Federation has complained of the conditions its members are facing during the operation, which will see officers from across the country enlisted at a cost of up to £10 million.
Simon Kempton, the organisation's deputy treasurer in England and Wales said "these officers have been asked to leave their families to travel to another part of the country to help protect the public and the President and all they expect in return is to be treated with some dignity and respect".
The conditions some West Midlands Police officers are being forced to endure is an absolute disgrace whilst they police #TrumpUKVisit Read more here https://t.co/m00pJpAKt4 pic.twitter.com/ILjcLwLASG

— WestMidsPCC (@WestMidsPCC) July 12, 2018
Essex Police's Assistant Chief Constable Pippa Mills admitted the conditions were unacceptable and apologised to the officers, promising to rectify the situation.
The US President and First Lady touched down at Stansted Airport earlier this afternoon.