Over 100 Guns Handed In During West Mids Firearms Surrender
20 June 2018, 07:44 | Updated: 20 June 2018, 07:49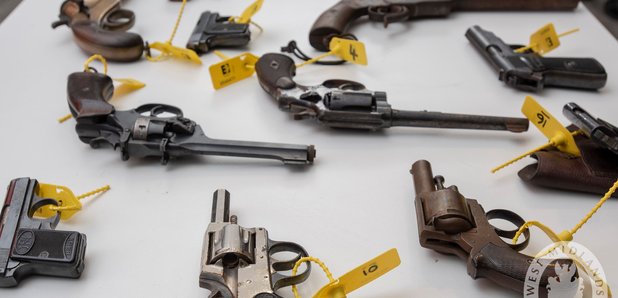 The collection of 116 pistols, rifles and shotguns was voluntarily handed over at collection points across the West Midlands in a three-week period
West Midlands Police organised the surrender during a lethal spike in violence and gun crime.
The force extended the period by which weaponry could be handed in by a week, as trouble flared.
Across the region there were two fatal shootings and at least seven gun discharges, leaving four other people injured, between May 12 and the beginning as June.
In the same period, there were 12 knife attacks, including two fatal stabbings of teenagers in separate incidents in Birmingham and Wolverhampton.
Latest figures by the Office for National Statistics showed there were 13 gun offences per 100,000 residents in the West Midlands, with the national average sitting at 11.
#WATCH DI Rod Rose from @WMPolice says prevention work has to start as early as primary school - when it comes to getting guns off streets #CapitalReports pic.twitter.com/3GCvb9gFQL

— Capital Brum News (@CapitalBIRNews) June 20, 2018
Police and Crime Commissioner David Jamieson said:
"Guns ruin lives and have a devastating impact on the communities of the West Midlands.
"Every weapon handed in is potentially a life saved. The region is a safer place with these weapons no longer on the streets, as there is always the potential they could fall into the wrong hands.
"For everybody who decided to hand in their weapon may I say a big thank you. You have done the right thing.
"This surrender is just one of the measures West Midlands Police and I are taking. I am investing in mentoring schemes, gang mediators and projects to divert young people away from crime."