Manchester Attack: Birmingham Response
23 May 2017, 11:44 | Updated: 23 May 2017, 16:45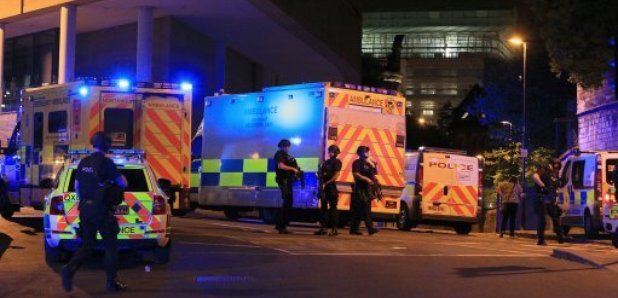 22 people, including children, have been killed after a suicide bombing at a Manchester Arena concert.
At least 59 people were also injured when the bomb went off at the end of an Ariana Grande gig last night.
The 23-year-old American singer was performing as part of her Dangerous Woman tour when a suicide bomber detonated an improvised explosive device.
The singer said on Twitter she is "broken" after the terror attack:
broken.
from the bottom of my heart, i am so so sorry. i don't have words.

— Ariana Grande (@ArianaGrande) May 23, 2017
The first victim to be named over the attack is 18 year old Georgina Callander. She was at the concert last night and had met the singer back in 2015 which she posted on her Instagram:

So called Islamic State is claiming to have carried out the attack:
Islamic State group says one of its members carried out last night's attack at Manchester Arena. #CapitalReports pic.twitter.com/Pu4xJJNGxO

— Capital Brum News (@CapitalBIRNews) May 23, 2017
West Midlands police have told Capital they are looking at how they police such events after what happened in Manchester:
@WMPolice tell #CapitalReports they're immediately assessing how they police events after the #ManchesterAttack pic.twitter.com/2ZYhjNEQrc

— Capital Brum News (@CapitalBIRNews) May 23, 2017
Venues across the West Midlands have been responding including the Barclaycard Arena and the Genting Arena:
We are shocked and saddened by the terrible incident at the Manchester Arena last night. Our thoughts are with those who were affected.

— Barclaycard Arena (@BcardArena) May 23, 2017
Off the back of #ManchesterArena attack venues like @GentingArena in #Birmingham says 'Your safety is our priority' #CapitalReports https://t.co/f8n0woLEhf

— Capital Brum News (@CapitalBIRNews) May 23, 2017
The Prime Minister and World Leaders have been paying tribute:
.@theresa_may says thoughts are with those affected by 'terrorist incident' at @ManchesterArena after @ArianaGrande concert #CapitalReports

— Capital Brum News (@CapitalBIRNews) May 23, 2017
Donald Trump has called the suicide bomber an 'evil loser':
President Trump expresses his "deepest condolences'' to the victims of Manchester bombing calling attackers "evil losers'' #CapitalReports pic.twitter.com/gP2PNFAn8E

— Capital Brum News (@CapitalBIRNews) May 23, 2017
A vigil will be held in Birmingham on Tuesday evening from 6:30pm in Victoria Square, Birmingham Library ill be lit up in red, white & blue with flags flying at half past above the city council house.
Music stars have also been sending thoughts to those affected including Harry Styles and Bruno Mars:
I'm heartbroken over what happened in Manchester tonight.
Sending love to everyone involved. H

— Harry Styles. (@Harry_Styles) May 23, 2017
No words can describe how I feel about what happened in Manchester. I don't wanna believe that the world we live in could be so cruel.

— Bruno Mars (@BrunoMars) May 23, 2017