Man Jailed For Running Woman Over In Birmingham Botched Drug Deal
6 October 2016, 17:16 | Updated: 6 October 2016, 18:20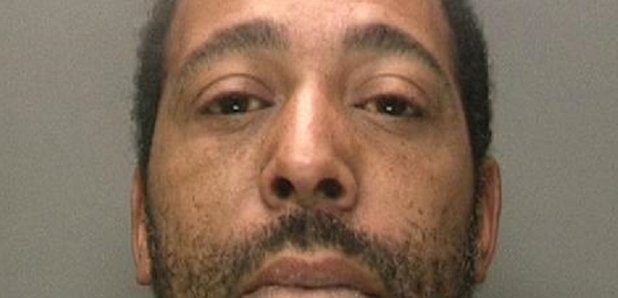 A driver who deliberately mowed down a woman in Birmingham park − leaving her with catastrophic leg injuries − has been jailed for more than 13 years.
Andrew Benain was scouting for drugs in Ladywood on the early hours of 25 September last year when he approached a couple walking in Duchess Road.
But the drug deal turned sour when the man purporting to be a dealer fled with £80 cash Benain had handed over.
The 40-year-old, who was behind the wheel of his partner's VW Touran, flew into a rage and sped after the pair across parkland − and when the woman slipped and fell Benain ramped the 4x4 over her as she lay helpless on the floor.
Benain reversed and accelerated over her again − causing multiple fractures to her pelvis, plus a ruptured bladder and bowel − before her partner was able to drag her free.
Nearby police officers alerted to the commotion ran into the park and were forced to jump for cover as waste disposal worker Benain tried desperately to find an exit route. He eventually smashed through a wooden fence and drove off.
The Touran's registered keeper told police he'd sold the car weeks earlier to a man he knew only as 'Andy' and that he'd previously sold an Audi to the same man.
Detectives traced the Audi to Benain's home in Bernard Road, Oldbury, where he was arrested later that same day.
His iPhone 5 was found hidden down the back of a settee and data analysis revealed a call to the victim's partner, made by the woman herself from inside the Touran, minutes before she was mown down.
Officers also found a high-vis jacket at the address − similar to the one witnesses described the attacker wearing − while Benain was also picked out during an ID procedure.
Benain went on to admit wounding with intent to cause grievous bodily harm, plus dangerous driving, and at Birmingham Crown Court on Tuesday (Oct 4) was jailed for a total of 13-and-a-half years.
Investigating officer, Detective Constable Sarah Evans, said: "This could easily have ended in a murder enquiry: not only did Benain deliberately run the woman over, he reversed over her body and sped forward again. She suffered awful crush injuries and was lucky to survive.
"Our crash scene examiners found tyre marks all over the park from where he'd chased after the couple and from his frantic efforts to escape.
"In interview, Benain claimed he was asleep at the time of the incident and that he'd sold the Touran days earlier to a man he knew only as 'slim'. However, in the face of the evidence we presented he eventually changed his story and admitted being the driver.
"This was an outrageous act and a gross over-reaction…he has now paid the price and will have plenty of time in prison to consider his actions. I wish the victim well in her continued recovery."