Man Arrested After Police Raid Suspected Chop Shop In Birmingham
26 August 2018, 10:19 | Updated: 26 August 2018, 10:23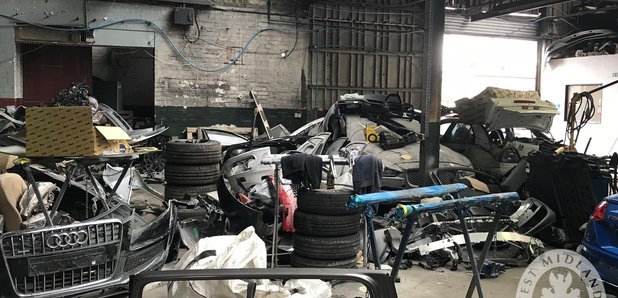 A suspected chop shop has been raided by police as West Midlands Police continue to clamp down on car crooks.
A 32-year-old man was arrested on suspicion of handling stolen goods during the swoop on a site in Smethwick.
The raid on Friday 24th August raid follows one at the same site earlier this month which led to the recovery of seven vehicles, and 30 parts suspected of being from stolen vehicles.
Officers were undertaking a second search of the site - following the arrest.
It comes less than a fortnight after West Midlands Police launched the campaign urging people to Shop a Chop Shop.
Ch Supt Chris Todd, leading the campaign, said: "It's fantastic that people are following our advice and letting us know of their concerns about suspected chop shops in their area.
"We're now getting far more intelligence through about these sites than we did before the campaign. That information will be developed and will hopefully lead to real results - putting those involved in this organised criminal enterprise behind bars and shutting down their illegitimate businesses."
Tell-tale signs of chop shops include:
• Noise coming from units late at night or in the early hours of the morning;
• Vehicles that look out of place going in to workshops and not coming back out;
• Large amounts of car parts being stored, sometimes in odd places such as gardens;
• Shipping containers in unusual locations;
• Expensive items such as engines and gearboxes outside workshops;
• Items for sale via on-line auction sites from the same seller, often in large quantities of the same item or similar.
The West Midlands Police and Crime Commissioner David Jamieson, who has been leading a national campaign to reduce car theft, said: "I'm pleased to see that more and more people are reporting suspicious activity around chop shops.
"If we are to close down these illegal operations then the police need communities to act as their eyes and ears.
"Whilst the early signs are good it is very important we keep up the momentum to ensure the criminals are caught and their illegal businesses shut down.
"Car theft is costing us millions of pounds every year in higher insurance premiums. Now is the time to act, before the situation worsens."