Lorry Driver Jailed For Killing A Birmingham Man While Watching Porn Behind The Wheel
14 December 2017, 16:28 | Updated: 14 December 2017, 17:14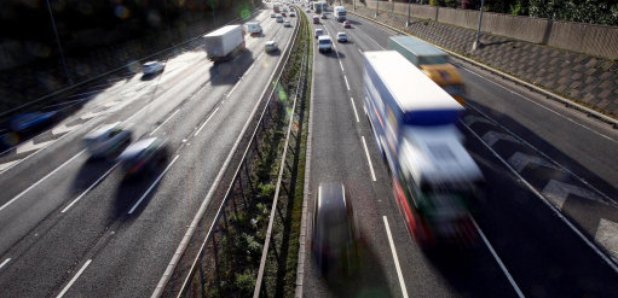 A lorry driver has been jailed for 8 years for killing a Birmingham man in a crash on the M69 as he watched porn behind the wheel.
Felix Gillon was found guilty of causing the death of Kerry Pemberton by dangerous driving after the crash on May 3 last year.

The 56-year-old had looked up "porn star candy love" just four minutes before the collision, and a further 25 webpages were accessed just after - including pornographic images and galleries.

Witnesses to the incident saw Gillon drift in and out of the hard shoulder between two and four times on the M69 southbound carriageway at around 3.13pm.

Gillon's Scania vehicle then struck Mr Pemberton's Iveco lorry, with the 55-year-old eventually being crushed against the safety barrier.

Mr Pemberton, of Bandwood Road, Birmingham, had survived the initial impact but was trapped under wreckage.

He was eventually freed by firefighters but died of a heart attack in the ambulance on the way to hospital.

Gillon had been spotted by an off-duty officer, throwing his phone away after the incident in order to dispose of the incriminating evidence.

The former Army sergeant, of Johnson Road, Bedworth, denied one count of causing death by dangerous driving and one count of attempting to pervert the course of justice.

But a jury of eight men and four women found him guilty of both charges on Thursday. As well as being jailed, Gillon was disqualified from driving for eight years.

Sentencing him at Leicester Crown Court, the Right Honourable Mr Justice Haddon-Cave told him: "Felix Gillon, you have been found guilty on overwhelming evidence.

"You told a series of lies to seek to cover your tracks but the jury saw through it all."

He said Gillon had "carefully, deliberately and surreptitiously" disposed of his phone after the incident.

The judge added: "You have privately expressed remorse but it would have been better demonstrated in criminal proceedings."

He concluded by commending Mr Pemberton's family for their "quiet dignity" throughout the trial.

He said: "Nothing will bring back Kerry Pemberton, but a measure of justice has been served in this case."

In a victim impact statement read by prosecutor James Bide-Thomas, Mr Pemberton's partner, Cheryl, said: "His death has been the truly hardest time for all of us.

"I just sit and wait for him to come home every day and I am broken-hearted.

"Kerry brought me anything I wanted over the years. I miss the kiss I would get when he came home from work, the cuddles with his long, powerful arms and his smile.

"He was a very affectionate man and we all miss him dearly."

Peter Cooper, defending, said Gillon had served in the Army as part of the Royal Engineers between 1988 and 1991, and in the same period had obtained his Heavy Goods Vehicle qualifications.

Mr Cooper also added: "There was clearly some awareness from him about what was happening in traffic."

ends


Mrs Pemberton also told how the loss had affected Kerry's brother, Trevor, and all of her children.

She said: "Our daughter, Rebecca, says her dad was the greatest dad.

"He loved all the grandchildren so much and he won't be there to see them grow up, which hurts her.

"Zoe says the loss of her dad has been one of the worst things to happen in her life. He meant everything to her and more.

"She misses not seeing him sleeping in his chair when she returns from work and having cuddles from him when she needs him most.

"Gemma remembers the day of his death like it was yesterday.

"She closes her eyes every night and what happened that afternoon replays in her head over-and-over again, along with the build-up to his funeral.

"Gemma says she cannot grieve for she is angry that the most precious person in her family has been taken away so cruelly.

"Since Kerry's death our grandchildren suffer with nightmares, many times they wake up screaming and are scared another loved member of our family has been taken.

Detective Constable Seamus Burns of Leicestershire Police said: "Not only did Gillon blatantly disregard the law he attempted to cover his tracks by getting rid of evidence.

"His actions that day, no doubt, resulted in the death of an innocent man.

"I am pleased he has been found guilty of the offences and I hope this case will highlight the dangers road users are putting themselves and others in when they ignore the law which is there to ensure the safety of all."