Legal High Use In Birmingham Triples In Five Months
26 August 2015, 17:36 | Updated: 30 March 2016, 13:50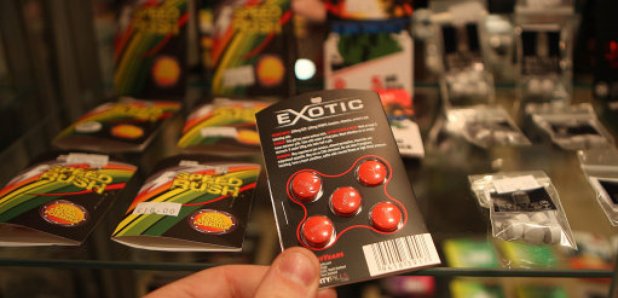 Paramedics in Birmingham say they're dealing with growing numbers of patients suffering the ill-effects of legal highs.
An ambulance service said its medics had dealt with a man admitted to hospital three times in the same day, and another patient who ``smeared himself with faeces'' in the street.
West Midlands Ambulance Service (WMAS) said figures recording its call-outs to just one variety of the dozens of legal highs available had tripled in three months already this year.
The use of new psychoactive substances (NPSs) - commonly known as legal highs - like the synthetic cannabis brand Black Mamba is placing a growing burden on paramedics, according to WMAS.
In April, there were nine cases of 999 ambulance calls to people complaining of sickness after taking Black Mamba, but by July that figure had risen to 29.
For the month of August the figure already stands at 39.
However, the ambulance service say their own figures only show ``the tip of the iceberg'' because many other calls turn out to be linked to the issue.
Among a wide variety of symptoms being reported to WMAS include patients suffering seizures, vomiting, and loss of control over their bowels.
Birmingham-based paramedics have been sharing their horror stories, dealing with the side-effects of unregulated legal highs.
Jack Lewis, who is based at the busy city centre Aston station, said: ``We see people with seizures, fully unconscious, aggressive, hallucinating, losing control of their bladder and bowels - we're getting tens of cases a day.''
A paramedic for three years, Mr Lewis said the problem was only getting worse.
``The other day, I was in an accident and emergency department handing over a patient, and they had four people in suffering from the effects of Black Mamba.
``I saw one patient who had taken three separate doses of it, and he had been in and out of hospital three times that day alone.
``The figures are under-representing the problem, and show the tip of the iceberg.''
On another occasion the 27-year-old said he had to deal with a particularly unpleasant case of a legal high patient who had soiled himself in the street.
He said: ``When I got there, the patient had covered himself in faeces, was eating his faeces and also throwing it - that was on the street in the city centre.''
Mr Lewis said call-outs saw him responding to a variety of people, aged between 18 and 40.
He added: ``It's cheap, it's available, and we'll often get people taking it in the daytime, particularly with the socially vulnerable like the homeless who are sadly seeking an escape from life.
``On the weekends, Fridays and Saturdays, we see the clientele changing and we get the clubbers and pub-goers instead.''
Mr Lewis said the ``cocktail'' of the chemicals used in legal highs made it difficult to treat and stabilise some patients.
``With cocaine, or cannabis or heroin, we can in some cases administer drugs to roll-back some effects but that's much more difficult with legal highs,'' he added.
``The problem is that people think because they can get it in shops that it must be safe.
``It may be technically legal, but they are unregulated and dangerous.''
Fellow paramedic Cameron McVittie said he turned up to a job reported as a cardiac arrest which turned out to be a patient who had taken a legal high.
``The fact that it states on packets 'not for human consumption' doesn't seem to matter - better take the advice,'' he added.
The Government has announced plans to introduce a blanket ban on the sale, production and supply of such substances.
In April, Lincoln became the first place in the country to ban people taking legal highs after the council passed a public spaces protection order.
Last week, Lambeth Council became the first London borough to introduce similar controls after complaints about nitrous oxide laughing gas, also known as hippy crack.
The website Frank which provides people with information about drugs states legal highs' packaging may describe a list of ingredients ``but you cannot be sure that this is what the product will contain''.
It further states: ``We know that many legal highs are sold under brand names like Clockwork Orange, Bliss, Mary Jane and have been directly linked to poisoning, emergency hospital admissions including in mental health services and, in some cases, deaths.''
For information on the pros and cons of legal highs visit www.talktofrank.com