Lawyers Drop Birmingham Pub Bombings Inquest Boycott Threats
23 November 2016, 11:03 | Updated: 24 November 2016, 17:11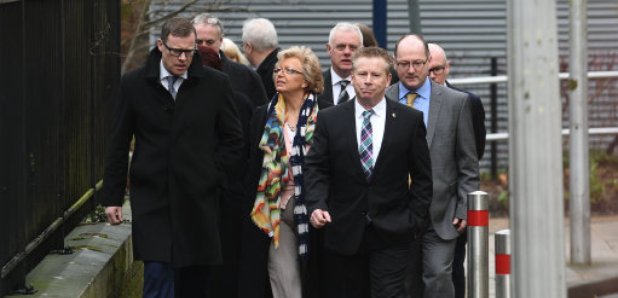 Lawyers for the Birmingham pub bombings families have dropped a threat to boycott the inquests.
Solicitors representing some of the relatives of the 21 people killed in the deadly double blasts will go before coroner Peter Thornton QC when he gets the hearings under way next Monday.
The families had previously warned of a boycott, saying their seats at the hearing could have been left empty over a continuing row about legal funding.
Belfast-based KRW Law claims it is being ''blocked'' and ''bounced into an agreement'' by the Government because of how existing funding rules governing the families' legal representation at the forthcoming inquests are being applied.
The firm, representing eight of the bereaved families, has been acting free of charge for two years.
During that time, the relatives won a complex legal bid to have fresh inquests into the deaths of those killed in IRA explosions at The Mulberry Bush and the Tavern In The Town on November 21 1974.
The lawyers have said they cannot continue to work pro bono with preliminary legal hearings looming on November 28.
The families' legal team have claimed they are facing the prospect of sifting through thousands of pieces of evidence stretching back decades during months of hearings, while the Government agencies and police in the case can rely on taxpayer-funded barristers.
West Midlands Police have already set aside #1 million to cover their legal costs, which the relatives have claimed shows an unequal approach.
Julie Hambleton, who heads the Justice4the21 campaign group and lost her sister Maxine in the terrorist attacks, claims the Government has treated the families ''like second-class citizens''.
The families wanted a Hillsborough inquests-type model of funding for the hearings.
But the Government rejected that approach, and encouraged the families to apply through the Legal Aid Agency (LAA) instead.
However, an issue has arisen because the relatives' lawyers are a Northern Ireland-based firm and the coroner's court sits in a different legal jurisdiction - England and Wales.
The Government has said it is ''committed to continuing to work with the families'' to solve the problem.
The suggested solution has been for KRW to become the agent for Liverpool-based firm Broudie Jackson Canter, which acted for some of the Hillsborough stadium disaster relatives and represent one of the pub bombings' families.
But the Belfast-based solicitors have said neither law firm thinks that solution is feasible because of the sheer volume of work already invested in their clients.
A Government spokeswoman said: ''Our deepest sympathies remain with all those affected by the horrific pub bombings in Birmingham in 1974.
''The Legal Aid Agency has set out how the matter can be taken forward and has committed to continuing to work with the families to ensure this reaches a satisfactory conclusion.''