Last Of Six Birmingham Crash Victims Named
19 December 2017, 14:05 | Updated: 19 December 2017, 15:55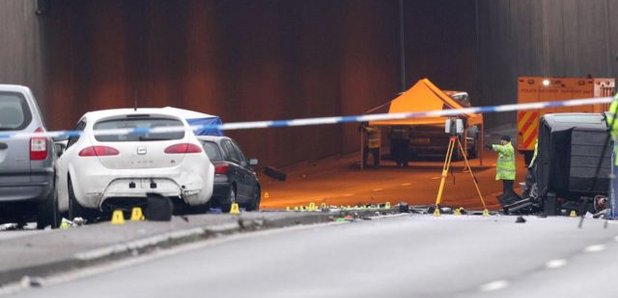 All six victims killed in a multi-car crash in Birmingham have now been named.
Sign language interpreter Lucy Davis, 43, and her boyfriend, clinical scientist Lee Jenkins, 42, were passengers in a black cab which was caught up in the deadly collision near the city centre in the early hours of Sunday.
Ms Davis, who had a son and daughter, was from Kingstanding in Birmingham, with her sister paying tribute to her "beautiful, lovely, kind" sibling, adding "life is cruel".
Mr Jenkins, also from the city, was employed at University Hospital Birmingham, which released a statement offering its "deepest condolences" to his loved ones.
The other four people who died were the taxi's driver, Imtiaz Mohammed, and three men from an Audi S3 car - Tauqeer Hussain, Kasar Jehangir and Mohammed Fasha.
Mr Jehangir was reportedly jailed in November 2016 after being involved in a 130mph motorway chase.
It is understood the 25-year-old along with Mr Fasha, 30, and Mr Hussain, 26, were thrown from the Audi in the pile-up on Lee Bank Middleway, near Edgbaston.
According to reports, Mr Jehangir was sent to prison after heroin was thrown from a vehicle as it was pursued along the M6 near Walsall in the early hours of July 18 2015.
He later pleaded guilty to dangerous driving and possession with intent to supply.

In a heartfelt tribute, Alison Worth, who is the sister of Ms Davis - known as Lulu - said: "As some of you already know, it was my beautiful, kind, lovely sister Lucy who died in the taxi on Saturday night when she and her boyfriend Lee had ended a lovely day and evening out with friends."
"Life is cruel," she added in a post on Facebook, which was accompanied by photos of the happy, smiling couple.
She said Ms Davis and Mr Jenkins "were wearing seatbelts" in the taxi.
"The pain we are enduring is almost unbearable," said Mrs Worth.
"Please people, always be kind, as you just never know what will happen next.
"They were in a taxi as they wouldn't think of driving.
"They were wearing seatbelts as Lulu wouldn't get in a car if the seatbelts didn't work.
"They were happy. They were great together and had so many plans.
"You will always be in my heart and my thoughts.
"I miss you so much x."
Mr Jenkins' colleagues at the University Hospitals Birmingham NHS Foundation Trust, which runs the city's Queen Elizabeth Hospital, also paid tribute, with one saying "you could not have met a more genuine, wonderful man".
In a statement, his employer said: "The trust extends its deepest condolences to the family of Lee Jenkins and also to his friends and colleagues at this very sad time."

Mr Mohammed's younger brother, Noorshad Mohammed, said the cab driver had rung his wife, Nargas Gul, just before the crash, to tell her he would be home for dinner.
The 32-year-old said: "It was his last job of the night.
"That was the last time she spoke to him."
Surrounded by the 33-year-old's other relatives at the family home on Sunday, his father, Ikhtiar Mohammed, recalled how his "heart sank" as police knocked on his door at 5am.
"I knew there was something wrong, as soon as I saw them," the 65-year-old said.
"I thought to myself 'Which of my sons is hurt?'. I just knew something was seriously wrong."
Older sister Nassrin Bibi paid tribute to her brother and said the family had been left "shattered".
Mr Mohammed worked for local firm Castle Cars, which said in a statement: "Imtiaz was a wonderful, young, hard-working family man", who was "loved and respected by all".