Sandwell Stands Down Call For Doctors To End Strike
12 January 2016, 21:12 | Updated: 30 March 2016, 13:50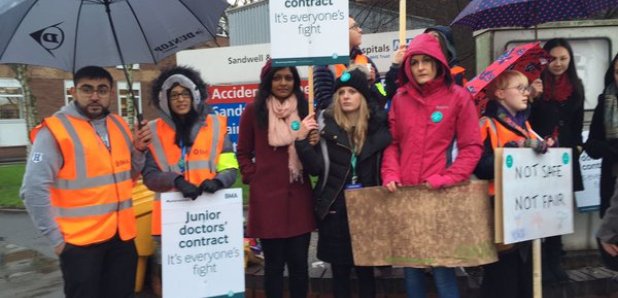 Junior doctor's on the picket line at Sandwell Hospital in West Bromwich were called back in after high numbers of patients put pressure on beds.
Sandwell Hospital released a statement this morning asking those on strike assigned to wards to come back in to work. That call was cancelled this evening.
But it led to a furious war of words between picketers and the hospital trust who have been accused of planning the recall the night before the strike. It's also been alleged the level 4 incident is a common of occurrence at the hospital and doesn't require a recall of doctors if it happens on weekends and Bank Holidays.
Capital's put these points to the trust. They've told us the email was drafted last night when the pressure on beds became clear. They also say they haven't had a level 4 incident at all over the last month.
24-year-old junior doctor Shaheed Walji is one of those on the picket line and spoke to Capital.
Junior Doctor Anne Debray is also angry at the Trust's statement.
Helen Ratley is an advisor with the BMA and told Capital the call for doctors wasn't justified today.
This is the full statement Sandwell Hospital gave us this morning:
Dr Roger Stedman, Medical Director at Sandwell and West Birmingham Hospitals NHS Trust, said: "Over the last two days we have had very high numbers of patients come to hospital, and fewer than usual discharged.

'Because of that we decided to require trainee doctors allocated to ward work to attend Sandwell during today's strike. Staff taking action at City are unaffected. We would like to thank local doctors' representatives for their constructive support and advice.'
The latest statement this evening:
Toby Lewis, Chief Executive, said:"Throughout today we have managed the increased numbers of patients admitted to Sandwell Hospital in recent days. The number we have been able to safely discharge has increased so that services are safe for tonight and tomorrow. We have agreed with the LNC Chair to stand down the request to some trainee doctors at Sandwell Hospital to come in and provide additional assistance. We will keep this situation under review.
"The Trust is not party to the national dispute in any way. The decisions made were made locally, and based on judgements about current and foreseeable pressure – a recognised basis for incident management. It would be irresponsible to wait for a position that was not recoverable and then act.
"I want to thank those people who did come in to work on the Sandwell wards today. There has never been any doubt here that in circumstances of difficulty individuals would prioritise patients."
The Health Secretary Jeremy Hunt has also responded to the anger from junior doctors in Sandwell. He's thanked those who did decide to go back to work: