Bin Strikes In Birmingham Resume As Redundancy Notices Issued
1 September 2017, 16:09 | Updated: 1 September 2017, 16:23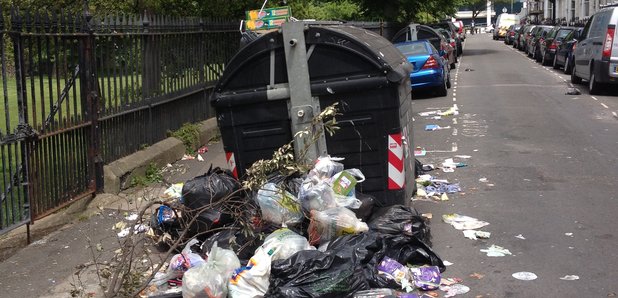 Unite the union has warned that there will be "piles of rubbish" on the streets of Birmingham as strikes continue until New Year.
After suspended the action for 2 weeks, members of Unite have told Capital they've been left with no choice but to start walking out again.
The action saw 2 months of rubbish pile up on the citys streets this summer, but after a breakthrough in talks between the union and Birmingham City Council thanks to the help of ACAS, action was suspended.
But today, the city council announced that they are going to being issuing redundancy notices.
Our reporter Laura Chiverton has been at the site in Perry Barr where workers have held a picket line.
It seems @UniteWestMids and @BhamCityCouncil are now further apart than ever. I've been reporting from the picket line #BirminghamBinStrike pic.twitter.com/89saLhZZ4h

— Laura Chiverton (@LABMidlands) September 1, 2017
At the picket line we spoke to Senior Representative Richard Beddows from Unite who understands if the public's patience is wearing thin.
Binmen in #Birmingham apologise to public as they restart strikes in the city #CapitalReports pic.twitter.com/o5cb8vk9aI

— Capital Brum News (@CapitalBIRNews) September 1, 2017
A spokesman said Birmingham City Council wanted to "continue its ongoing discussion with the trade union through Acas in parallel with seeking alternative jobs" for those staff issued with notices.
Council leader John Clancy said the new system would "provide a better, more efficient service" for Birmingham's residents, which can run "within budget".
Lisa Trickett, who is in charge of waste services, added: "We hope that, in view of the ongoing discussions with Acas, Unite will not take their workforce back out on strike but continue in discussions with us and the other unions."