Fund Set Up For Tunisia West Midlands Terror Victim
30 June 2015, 11:24 | Updated: 30 March 2016, 13:50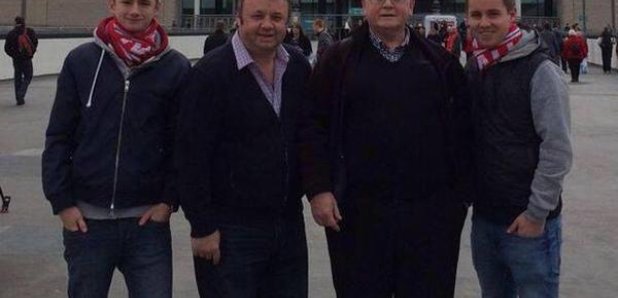 Online funds have been set up for a 16-year-old boy from the West Midlands who survived the terror attack in Tunisia.
16-year-old Owen Richards' brother, Joel, 19; his grandfather Patrick Evans, and uncle Adrian Evans died when a gunman opened fire in the resort of Sousse, which was popular with British tourists.
A number of funds have been set up for Owen online to raise money for him.
One of them was set up on JustGiving by Scott Wright, who runs the Darren Wright Foundation based in Bristol. He decided to help after seeing that the family were Walsall FC fans and attended the Johnstone's Paint Trophy final match against Bristol City at Wembley earlier this year.
"He was obviously there for Walsall, as was I. I just felt that something needed to be done to help.
"It was an emotional day for us anyway as we'd walked from Bristol to Wembley. And we stood where they were in the [tribute] photograph online. It just brought it home quite badly.
"I had relations in Tunisia myself on the day the attack happened. Once I found out they were alright, I decided to see what else there is I could do to help."
Tributes have been paid to Owen's family since their deaths were announced.
Adrian Evans worked for Sandwell Council in the West Midlands as a manager in the gas services department. Council leader Darren Cooper said he was a "very popular and long-serving employee'', adding: "We are absolutely devastated for Adrian's family, friends and colleagues, and our thoughts are with them and all those affected by this tragedy.''
Joel, believed to be a student at the University of Worcester, was described as ``a young, talented referee with the world at his feet'' by the Birmingham County FA.
Birmingham-based Gaelic football club James Connolly's GFC also paid tribute to an ''exceptionally talented footballer''.
The University of Worcester's vice chancellor and chief executive, Professor David Green, said: "Our whole university community has been shocked by these tragic reports.
"At Worcester Joel has shown himself to be a highly intelligent, talented young man and an all-round outstanding person with a truly bright future ahead. Since joining the university, he has become very popular with his fellow students, team-mates and with the many staff that have taught him throughout his time with us.''
Walsall FC changed the main image on its social media accounts to a photograph showing the trio outside Wembley Stadium at the Saddlers' Johnstone's Paint Trophy final appearance three months ago.
In a statement on its Facebook page, the club said: "Walsall FC are devastated to hear that Saddlers fans lost their lives in the Tunisia terror attacks. Our thoughts are with the family of Patrick Evans, Adrian Evans and Joel Richards.
"The club offer its full support to the families at this tragic time.''