Dudley GP Guilty Of Sex Offences
17 January 2018, 14:49 | Updated: 17 January 2018, 15:38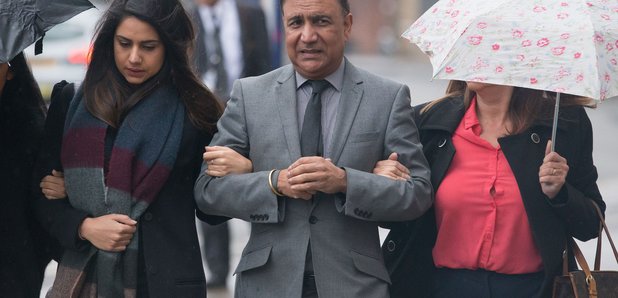 A doctor has been found guilty of sexually assaulting women who had come to see him about hayfever and back pain.
Jaswant Rathore was convicted at Wolverhampton Crown Court after a seven-week trial which heard he conducted unnecessary massage "treatment" to satisfy his sexual desires.
The 60-year-old general practitioner, who was the primary care lead for the Dudley clinical commissioning group, had denied touching eight women inappropriately on different occasions between late 2008 and the summer of 2015.
One of the patients Rathore was cleared of assaulting claimed he offered to put her prescription for eczema on her son's prescription so she could get it free after he got the "wrong end of the stick".
The court was told the GP was initially arrested in relation to three complainants but five more contacted police after seeing reports in the press.
Opening the case against Rathore at the start of the trial, Prosecutor Heidi Kubik told the jury: "You will see that his actions went far beyond that of legitimate medical treatment.
"It was an excuse to touch these complainants in a way that was sexually motivated on his part."
Ms Kubik said Rathore had a "special interest" in the massage therapy he was giving to his patients and "read various articles over the internet."
She added: "We say this was an interest fuelled by his own illicit sexual desires."
The jury was also told that the prosecution did not accept that Rathore even had "the appropriate training" to carry out the massage procedures.
Rathore, of Ploughmans Walk in Wall Heath, Kingswinford, West Midlands, was convicted of eight charges of sexual assault and two counts of assault by penetration.
The Indian-born doctor, who came to Britain aged three with his family, qualified as a GP in 1985 after studying medicine at the University of Manchester.
He also worked as a house officer in the spinal surgery section at the Royal Orthopaedic Hospital in Birmingham in the 1980s.
Judge Michael Challinor rejected a plea to continue Rathore's bail overnight before sentencing on Thursday.
The judge told the doctor: "We know the nature of the sentence and don't want there to be any difficulties.
"Following your conviction, you must expect a significant prison sentence."