Digbeth Hostage Situation: Latest
19 August 2015, 20:29 | Updated: 30 March 2016, 13:50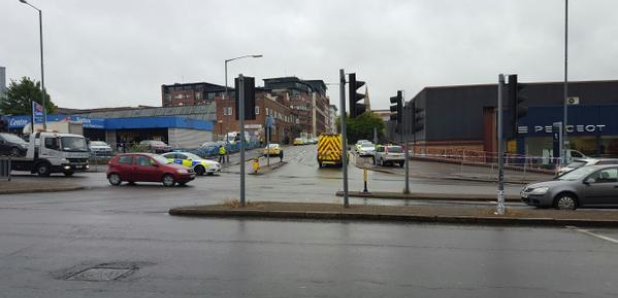 The latest on the hostage situation at a charity in Digbeth.
20.27 @WMPolice The man, who is unconnected to the charity, entered the building around 3pm unarmed.
@WMPolice It is unclear at this stage what his motives for holding the two women were.
@WMPolice Both women are receiving appropriate support after their ordeal.

20.25 The hostage situation is over with no injuries. Police say a man has been arrested:
@WMPolice A man has been arrested after two women were held hostage at a charity in Digbeth this afternoon.
@WMPolice A cordon is still in place while officers conduct their enquiries.
20.01 Reports a woman has been released from the building.

18.30 Wedding guests at the Spotted Dog pub led out by police to beyond the cordon.
17.51 Police released a statement to Capital:
"Police were called to a charity on Alcester Road shortly after 3pm this afternoon to reports of a man who has locked himself and two members of staff into a private area.

Emergency services are at scene."
17.40 Capital speaks to eye witness David Barnes who says one witness told him there was a man with a gun. The street has been cordoned off. He lives nearby and told Capital he had been walking home from work when he'd seen armed police. He said: "Someone told me they'd seen a man go into the BITa Pathways mental health charity with a gun."
17.35 Reports on Twitter of a hostage situation in Digbeth on Alcester Road:@DavidwBarnesENG