Decision on Birmingham Pub Bombings
1 June 2016, 06:38 | Updated: 1 June 2016, 07:12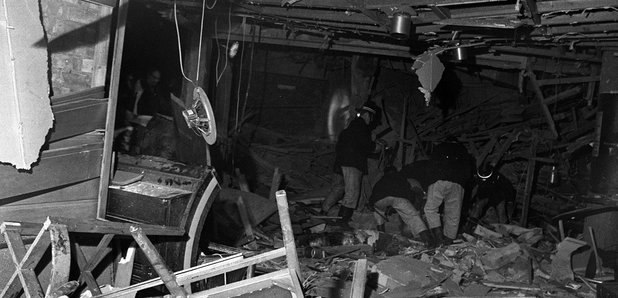 The coroner is to decide whether an inquest into the deaths of 21 people killed in the Birmingham pub bombings should be resumed - after more than four decades.
Relatives of the victims say this could be the last chance in their lifetimes, to get justice for those killed and injured on the night of November 21 1974, when two bomb blasts destroyed the Tavern in the Town and The Mulberry Bush pubs in the worst act of terrorism in mainland UK until the London 7/7 bombings.
Members of the IRA are believed to have carried out the attacks but no one has ever been held accountable.
The inquest remained closed even after six men, who were wrongfully convicted for the attacks, were released from prison back in 1991. They became known as the 'Birmingham Six'.
Shortly after their convictions were quashed, the former Director of Public Prosecutions, Barbara Mills, placed a 75-year embargo on files relating to a Devon and Cornwall Police inquiry into the West Midlands Police investigation. Those files will not be released until 2069.
Calls for a public inquiry have also been denied and West Midlands Police have said there isn't enough evidence to launch a new, full scale investigation.
Paul Bodman's dad Stanley, was killed in the attack on the Mulberry Bush, where he was having a drink after work. He told Capital he wants the police to back the victims' families.
The bombings remain Britain's biggest unsolved mass murder, and the victim's families have made repeated claims of a police cover up and, more recently, state conspiracy.
Julie Hambleton's 18 year old sister was handing out invitations to a party, when she was killed by the bomb at the Tavern in the Town. She was with her friend, 17 year old Jane Davis, who was the youngest victim of the attacks.
Julie has been campaigning for a fresh inquest for years, under the banner Justice 4 the 21 and spoke outside the coroner's court after the last hearing.
Hearings
At previous hearings held to consider the families' application, the senior coroner for Birmingham and Solihull, Louise Hunt, asked West Midlands Police to disclose their records.
The documents she has asked for relate to lost evidence, response times on the night, and falsified documents, which campaigners allege may have been forged to protect an IRA informant.
Ms Hunt said the sensitive information was 'significant' and raised concerns that the security services had advanced notice of the bombings.
However, it remains confidential and will only be revealed to the public if the inquest goes ahead.
Another request for information, which the coroner made to three government departments, regarding a potential IRA informant, will also now only be pursued if the inquest is resumed.
Kieran Conway was the chief of intelligence for the IRA at the time of the bombings. He says claims that the British Security Services knew about the attacks are credible.