Christina Edkins Memorial Stone
16 November 2013, 16:34 | Updated: 30 March 2016, 13:50
A memorial stone was unveiled on Saturday the 16th of November in memory of Birmingham teenager Christina Edkins.
The 16 year old was stabbed in the chest on board the number 9 bus on the Hagley Road on the morning of March 7th 2013.
The stone is at 54 Hagley Road on the grass verge away from the road.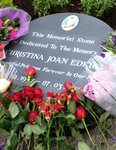 A friend of the family has released a statement on their behalf:
''The Edkins family would like to express their sincere thanks to all involved with the memorial stone, the Landlord and building manager of 54 Hagley Road. The family have been to view the stone and are very happy with it.
They would also like to take this opportunity to thank Tesco and Morrisons at five-ways for all their kind donations, Father Ian for his prayers and support and for all the family, friends & local community for the messages of sympathy, cards, teddies, candles & flowers.
The memorial stone is a place where everyone can gather to remember Christina. She will be missed by all.''
Phillip Simelane, from Walsall pleaded guilty to Christina's manslaughter on the grounds of diminished responsibility and was detained indefinitely under the Mental Health Act.
Birmingham and Solihull Mental Health Trust is leading a review into the contact between Simelane and various agencies. It is expected to report back in December.