Birmingham Student Creates "Hair Chair" From Barbers' Off-Cuts
29 June 2019, 07:32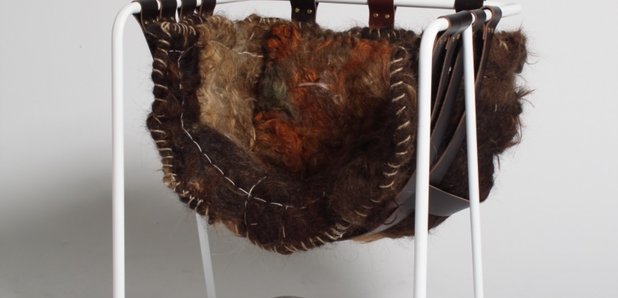 A budding product designer has created a chair from barbers' off-cuts to get people thinking about what we throw away.
Alice Evans came up with the idea of the Hair Chair while meditating on Buddhist teachings that happiness does not come from material possessions and there should be compassion for all living things.
After completing her dissertation on similar themes in February, she then set about designing and creating the chair, made up of 30 4in (10cm) square patches of human hair stitched together with plant twine.
The hair, collected from five barbers in Birmingham and cleaned with soap and water, forms a bucket seat, supported by leather straps and hangs from a metal frame.
The 23-year-old, who is about to end her final year studying product design at Birmingham City University, said people's reactions had ranged from "wow" to "disgust".
The chair took about two months to make, collecting bags of hair from barbers, twice a week, and with each patch taking half an hour to create.
She has no idea how much hair went into it, because of the different lengths needed.
The chair has also already been on display at the university's arts showcase, Inspired Festival.
Meanwhile, Miss Evans plans to go on to work within the sustainable design industry and continue experimenting.
You can hear what she had to say to Capital here.