Birmingham Drug Dealer Jailed In Landmark Case
4 October 2018, 16:19 | Updated: 4 October 2018, 16:24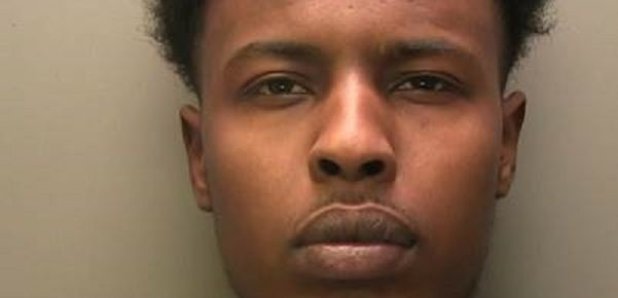 A drug dealer from Birmingham - who trafficked three children including a teenage girl to use in a "county lines" crack and heroin selling ring - has been jailed for 14 years after a landmark prosecution.
21-year-old Zakaria Mohammed recruited the vulnerable youngsters to extend his drugs network to Lincoln, but was caught after two missing 15-year-old boys were found in a squalid and freezing flat in January.
21-year-old Zakaria Mohammed from #Birmingham who trafficked three children including a teenage girl to use in a "county lines" drugs dealing has been jailed for 14 years in a landmark case #CapitalReports pic.twitter.com/A31rCtPX9Z

— Capital Brum News (@CapitalBIRNews) October 4, 2018
Mohammed, from Trinity Road, Aston, is thought to be the first drug dealer convicted in Britain for breaching the Modern Slavery Act by trafficking children. One of his victims was a 14-year-old girl.
County lines gangs recruit children from cities and send them to provincial towns to sell drugs.
Police said Mohammed, who admitted four counts of possessing drugs with intent to supply and five counts of human trafficking, raked in £500 a day in profit by organising the sale of crack cocaine and heroin from premises in Lincoln, which were raided on January 25.
Although no drugs were found at the property in Yarborough Road, police recovered knives and cash, leading them to believe it was being used as a base to supply around 100 local addicts.
A surveillance operation identified a Seat Leon registered to Mohammed making regular trips from Birmingham, often accompanied by teenagers, to an address in Foster Street, Lincoln.
West Midlands Police seized the vehicle for having no insurance in February, discovering a phone used to run the drugs line - known as "Castro" - and clothing including school trousers and a school tie belonging to a missing child from Birmingham.
A drink bottle and a Ribena carton recovered from the Seat returned a DNA match to two other 15-year-old boys who had disappeared from the city.
Officers from Lincolnshire Police recorded video evidence of children passing drugs to punters - often completing deals every 10 or 15 minutes - and swooped on the flat in Foster Street on February 12.
Three 15-year-old boys, all reported as missing from Birmingham, were found inside the one-bed flat with two known class A drug users.
A total of 25 wraps of heroin and crack cocaine were recovered, plus cash and two so-called zombie knives.
Mohammed pleaded guilty after officers also recovered CCTV from Birmingham New Street station, showing him buying train tickets for two children to travel to Lincoln.
Both youngsters - a boy aged 15 and a 14-year-old girl who had been reported missing - were found when officers from Lincolnshire and West Midlands Police raided a property in Hermit Street, Lincoln, on April 6.
Passing sentence at Birmingham Crown Court, Judge Nicholas Webb, said: "The fact is the children were being taken away for days or weeks, exposed to potential danger in a squalid environment."
Afterwards, Detective Constable Max Gebhard, of West Midlands Police, said: "The 'Castro' drugs line number was changed four times in a bid to avoid detection by the police.
"Each time a mass text message would be sent out to its scores of users alerting them to the new number on which to place orders - and when those orders came in Mohammed would contact the children to fulfil the deals.
"This is a hugely significant conviction for West Midlands Police and law enforcement as a whole across the UK.
"It shows that we can go after county lines offenders not just for drug supply but also under trafficking legislation due to them exploiting children."
Detectives say they found no evidence that the children he trafficked and exploited had shared in his profits.