Birmingham Couple Jailed For Shoplifting £100,000 Of Designer Clothes
11 January 2017, 14:12 | Updated: 11 January 2017, 18:05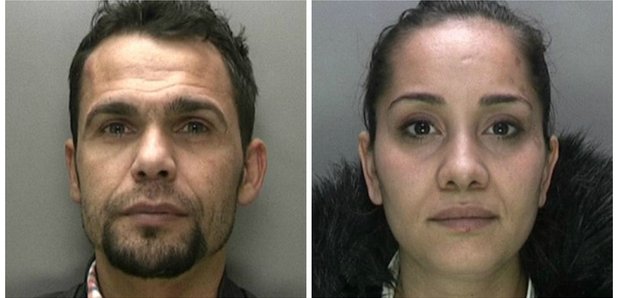 A couple who stole more than £100,000 pounds worth of designer clothes in Birmingham and across the country have been jailed.
Ionut and Mirela Vasile struck at luxury outlets Louis Vuitton, Harvey Nichols and Burberry the length and breadth of the country – from Scotland to London.
They perfected a tactic of distracting fitting room staff and hiding clothes in changing booths for accomplices to scoop up moments later and smuggle through security detectors in foil-lined bags.
Birmingham city centre cops picked up the investigation following two high-end heists at Harvey Nichols in the space of a few weeks.
Security staff detained 35-year-old Ionut Vasile and a suspected getaway driver as they fled The Mailbox on 11 December 2015.
Enquiries at stores across the UK uncovered CCTV footage showing the group pulling off the shoplift scam in Manchester, Edinburgh, London, Nottingham and Milton Keynes.
It led to 34-year-old Mirela Vasile and a female accomplice being arrested on 27 April last year from their home in Richmond Road, Bearwood.
Several thousand pounds worth of clothing was found at the address – including Alexander McQueen and Browns tops – and examination of their mobile phones revealed message exchanges with potential buyers.
Officers spent several days with Romanian interpreters sifting through SMS and WhatsApp messages in order to prove the pair were running an organised crime enterprise.
The Vasiles went on to admit conspiracy to steal and at Birmingham Crown Court today (Jan 10) they were both jailed for three years.
Birmingham city centre neighbourhood Sergeant Julia Slater, said: "By committing offences all over the UK they managed to avoid capture…it was only when our team grasped the investigation that it became apparent the offences were linked and being committed by an organised gang of shoplifters.
"Our investigation has linked them to stolen clothing valued at £106,000 but we suspect they could have taken much more and have perhaps committed hundreds of thefts since they arrived in the country.
"It's unclear how they are disposing of the items. However, we found stolen clothes at their home that had been 're-branded' with a homemade price tag, the kind you might find at an independent shop, plus a price ticketing gun.
"They were living in private accommodation with no obvious income so it appears their whole lifestyle was funded through shoplifting.
"This was a protracted enquiry, working with security managers at several stores, and I'm pleased the couple have finally been made to pay for their crimes."
The Vasiles first struck at the Michael Kors store in the Bullring in January 2015; the single biggest ticket item they swiped was a £4,400 dress from Louis Vuitton in London.
Officers are liaising with prosecutors to secure European Arrest Warrants for the two other suspects who are believed to have fled the country while on bail.