Birmingham Binmen Strike Suspended
16 August 2017, 13:35 | Updated: 16 August 2017, 14:23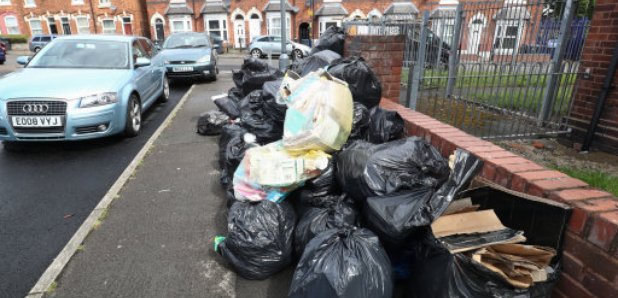 The binmen strike in Birmingham by members of Unite the union has been suspended.
The change of heart comes after a breakthrough in talks between the union and Birmingham City Council.
The binmen had been walking out for 3 hours a day for almost 2 months in a row over changes to working patterns, which they say could have cost jobs.
But an agreements been reached and bin collections are now going back to normal.
It's welcome news to the residents of Birmingham.
VIDEO: Families want the streets cleared ASAP after the #BirminghamBinStrike was suspended #CapitalReports pic.twitter.com/7Z8p6YqMcR

— Capital Brum News (@CapitalBIRNews) August 16, 2017
The Unite union had warned that the dispute could last until Christmas, with workers campaigning against plans to cut more than 100 waste collection jobs.
Acas said Unite and Birmingham City Council are "pleased to be recommencing industrial relations and pleased that the bin collection can resume without disruption".
The union's assistant general secretary, Howard Beckett, said: "We are very pleased that we have reached the stage where we can suspend the industrial action while we hold further talks about the future of the refuse service.
"I know this news will be greatly welcomed by the people of Birmingham as they look forward to their bins being collected again on a regular and seamless basis. I would like to thank them for their understanding over recent weeks.
VIDEO: @UniteWestMids says their members issues can now be 'negotiated away' after the #BirminghamBinStrike was suspended #CapitalReports pic.twitter.com/fvrSV3etNs

— Capital Brum News (@CapitalBIRNews) August 16, 2017
"Unite will suspend the current round of industrial action that was due to run until 21 September to create a conducive climate for the talks to proceed smoothly. Our members will be working normally.
"I would like to pay tribute to the city council leader, Councillor John Clancy, who has worked very hard and travelled the extra mile to achieve this solution, despite the reservations of some top council officials.
"The council has addressed our members' concerns, including the safeguarding of the Grade 3 post that is vital to the safety at the rear of the refuse vehicles. Unite also welcomes the fact that our suspended rep is now returning to work.
"Unite recognises - and deplores - that local government in England has suffered swingeing cuts to its funding since the Tories came to power in 2010.
"Finally, I would like to thank our members for the solidarity they have shown in defence of a decent and well-resourced refuse collection in Birmingham, and their stand against job cuts and massive cuts to their wages.
"We will be entering into these Acas talks in a constructive and positive fashion - and recognise that there is still much hard work to be done."