Birmingham Airport 'Could Be Next In Line For Expansion'
24 October 2016, 09:28 | Updated: 26 October 2016, 07:08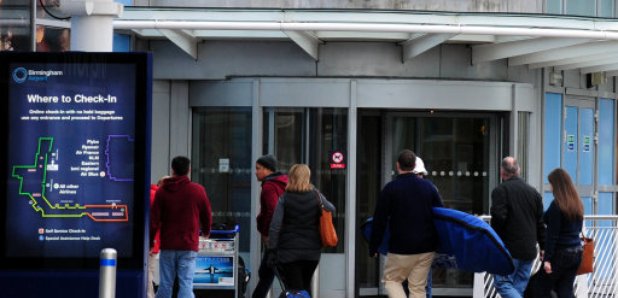 Birmingham Airport could get a new runway in future, according to the man looking at options for the government.
In a letter written in the Daily Telegraph, the Airports Commission chairman Sir Howard Davies says it could be a "more interesting option" once HS2 is built between London and Birmingham.
In it, he goes on to say now the UK has voted to leave the EU, the case for immediate expansion should focus on the south east, but it would be "a mistake" to expand both Heathrow and Gatwick, which could be beneficial to the airport here in the Midlands.
A decision on where the government will back expansion is expected this week, however, Davies suggests the case for Heathrow's expansion is ever more clear, following the Brexit vote.
Transport Secretary Chris Grayling has acknowledged that any of the three options on the table - new runways at Heathrow or Gatwick, or extending an existing runway at Heathrow - would be controversial but would ``open up new opportunities for Britain'' as it adjusted to Brexit.
Sir Howard said: ``The arguments for making a decision now, and for Heathrow, have strengthened in recent months.
``Overseas, the lack of a decision is seen as a symbol of Britain's inability to decide on its future as a trading nation. That may well be to overstate the case, but it is the way overseas businesses and governments view it.
``And the need for a clear strategic direction is more important since the referendum result. The rhetoric about becoming a European Singapore with a 'blue water' trading focus seems empty if we cannot connect to the new markets we wish to serve.''
Sir Howard said Gatwick was largely a European short-haul airport while Heathrow had inbound passengers from around the world and ``hugely more air freight, some 150 times as much as Gatwick''.
Allowing new runways at both airports would be a mistake and ``could mean neither is built'' because of the risk of a legal challenge.
And once the high-speed HS2 rail line is built, ``Birmingham might indeed be a more interesting option'' than Gatwick.
Sir Howard blamed former prime minister David Cameron - who had given a ``no ifs, no buts'' guarantee that there would not be a third runway at Heathrow - for the delay in the decision since he presented his report, claiming he was an ``immovable object''.
Ahead of a meeting of the airports Cabinet sub-committee, Mr Grayling insisted all three options for expansion were still in play.
``Genuinely it's going to be a decision on Tuesday and it's a difficult one, because all three of these are well-crafted proposals and any one of them could bring benefits to the UK,'' he said.
A Birmingham Airport spokesperson said: "The government has said that the answer to congestion at London's airports is a new runway at Heathrow. It is also clear that connectivity for regions outside the South East is a key priority.
"At Birmingham Airport our focus is on linking the Midlands Engine to global connectivity and maximising the benefits of HS2. We are pleased that ministers have recognised the increasing role Birmingham Airport will play when it becomes the UK's first high-speed rail connected airport and its catchment area is dramatically enlarged into London.
"We are now exploring the options for supporting growing demand and creating an integrated transport hub so we can play our full part in unlocking the potential of the Midlands Engine."