Arrests After Biker Gang Cause Halloween Night Disruption
1 November 2016, 08:52 | Updated: 1 November 2016, 08:54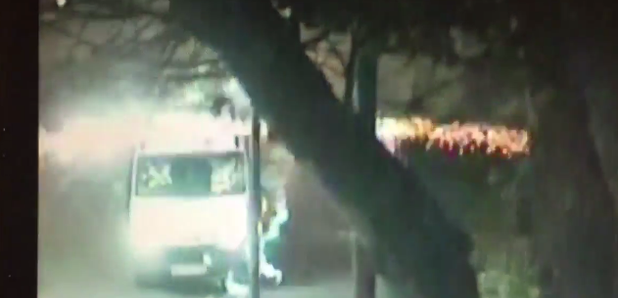 Seven people have been arrested after a gang of up to 200 bikers caused disruption around Birmingham and Solihull.
Many wore face masks as they pelted motorists with fireworks, pulled stunts and even stopped a fire engine getting to an emergency call.
At one stage a police van came under attack and there were reports that some of the group hurled fireworks at other motorists.
Five men and two male youths were arrested on suspicion of dangerous driving, causing a public nuisance and motoring offences.
A total of 10 bikes including scramblers, mini moto's and mopeds were seized by police. Some after having their tyres deflated by police 'stingers'. Early enquiries suggest that at least three of the bikes had been reported stolen.
CCTV's been released of fireworks being pelted towards a police van which was called out to an incident at Balsall Heath park, where a dispersal order was put in place during Halloween.
Balsall hth pk firework disorder. Dispersal order authorised 29th to 31st. 2 arrested, 3 stop/s, 5 visits to homes. Cctv and cameras in play pic.twitter.com/oJpHmoFuVU

— Sparkbrook Police (@Sparkbrook_WMP) 31 October 2016
West Midlands Police Chief Inspector Jack Hadley described the bike gathering, known as a Halloween Ride Out, as dangerous and criminal.
He added: "This wasn't a rally of bike enthusiasts. This was loutish, criminal behaviour. Bikers were riding without lights, at speed, dangerously, pulling wheelies in the street, and mounting pavements.
"We had one call from fire service colleagues reporting a group of bikers stopping a fire truck from responding to an emergency call.
"Areas across Solihull, central and south Birmingham were affected with road users and pedestrians put at risk and a nuisance caused in residential areas.
"One biker suffered serious chest injuries that were thought to be life threatening; the man's condition has improved overnight in hospital but it just illustrates the dangers this kind of behaviour presents to the bikers as well.
"This kind of 'event' is outrageous and totally unacceptable and I sympathise with any members of the public that were inconvenienced by the bikers.
"We will be gathering evidence from the event and where there are opportunities we will not hesitate to respond with more arrests and bike seizures."
At one stage a group of up to 100 masked bikers surrounded a police van in Yorkminster Drive, Chelmsley Wood, kicking at the wing mirrors and trying to smash its windows; they sped off when police back-up arrived.
Chief Insp Hadley accepted that the Ride Out was chaotic and presented huge challenges for police officers on the ground.
He added: "It is very difficult to plan for outbursts like this: it's not a conventional, planned event and we saw small groups of bikers speeding off in all directions. It is very hard for officers to try and contain that activity.
"Stingers were used where appropriate to deflate bike tyres and to disrupt the activity but this can only be done in certain circumstances where it would not endanger the rider or the deploying officer. Most of the bikers were not wearing helmets so this presents additional risks.
"We have a dedicated operation to tackle illegal and anti-social biking and earlier this year we arrested several people during a series of warrants and seized bikes. More warrants were carried out in the last few days and a suspected gang ringleader arrested and searches carried out in locations suspected of housing stolen bikes.
"I would ask members of the public to help us in our battle to target this kind of behaviour. If you suspect anyone using a bike illegally, or has a stolen bike, then please report it to us on 101 or call Crimestoppers anonymously on 0800 555111."