Happy
Pharrell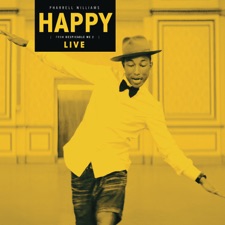 The track was recorded to accompany the soundtrack to the movie Despicable Me 2.
The up-lifting track also saw the star release a 24-hour music video project for the track on 24hoursofhappy.com.
It was the world's first 24-hour video and sees Pharrell making an appearance 24 times during the long-form video.
There are also several high profile cameos in the video – from Steve Carrell, Jamie Foxx, Kelly Osbourne and Jimmy Kimmell. Watch the official video at the top of the page, which is a four-minute condensed version of the bigger 24 project.