Kelly Clarkson Kicks Off Her Heels And Gives The Summertime Ball Crowd An AMAZING Show
6 June 2015, 17:35 | Updated: 6 June 2015, 20:49
The US diva led the crowd through ALL her fan-favourites at Wembley Stadium this weekend.
Kelly Clarkson has some SERIOUS lungs! The 'Heartbeat Song' star took to the stage at Wembley Stadium where she gave the crowd her all with pitch perfect vocals and ALL the emotion she could muster!
The US singer cracked out all of her BIGGEST anthems for her set at our Summertime Ball 2015 With Vodafone, from the rip-roaring 'Since U Been Gone' to the uplifting 'Stronger' - they were all in there!
"Are you having a good time?" Kelly shouted out to the crowd. "Give it up for my band Capital!"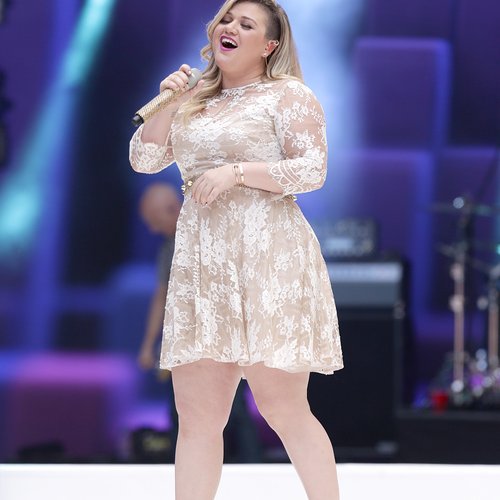 Opting to dress for the weather in a BEAUTIFUL sheer-style lacy white dress, Kelly couldn't have looked happier as she kicked off her set with fan-fave 'My Life Would Suck Without You'.
As always Kelly's vocals were EXACTLY on point, as she followed up her opener with her recent Vodafone Big Top 40 hit 'Heartbeat Song'.
She had the crowd behind her the entire way, nailing her next son 'Since U Been Gone', which got a BIG, big cheers from the #CapitalSTB crowd.
Loving @kelly_clarkson performances at #CapitalSTB pic.twitter.com/rbaxTkC6X3

— (@mcconnelljordan) June 6, 2015
KELLY CLARKSON IS SO GOOD I LOVE HER

— han TODAY (@unitedhes) June 6, 2015
@Kellyclarkson_ #stb you are stunning Kelly Clarkson!!! pic.twitter.com/Ep9ZFRbtJj

— Lauren Collins (@Collins48I) June 6, 2015
At one point she even threw off her shoes to get well and truly comfortable on that Wembley Stadium stage, heading into her final song of the day 'Stronger (What Doesn't Kill You)'.
"Thank you guys so much for having us, give it up for my band," she added to round off the set. "Give it up for Jason Derulo who was just on stage."
Kelly Clarkson Setlist - Summertime Ball 2015
'My Life Would Suck Without You'
'Heartbeat Song'
'Since U Been Gone'
'Stronger (What Doesn't Kill You)'