Channing Tatum And Jessie J Relationship Timeline: Are They Back Together After Split?
27 April 2020, 11:56 | Updated: 9 July 2020, 22:01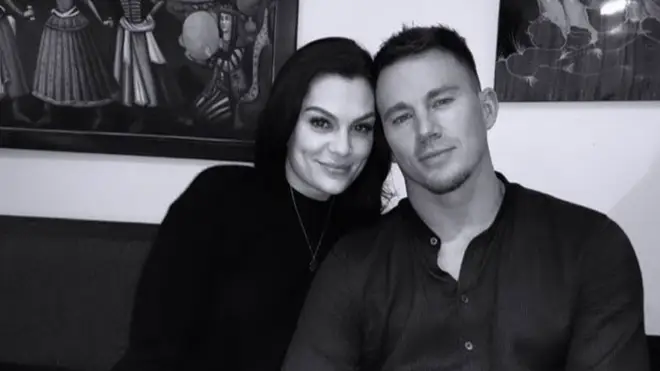 Jessie J and Channing Tatum have been on and off a lot in 2020 – here's a complete timeline of their relationship, from when they met to splitting up.
Jessie J and Channing Tatum reportedly split for a second time this year, in April 2020.
The pair initially dated from late 2018 until December 2019. They then got back together in January 2020, but less than 3 months later, it was all over.
However, the couple continue to reach out to one another on social media, keeping fans guessing over their relationship status.
Are Jessie J And Channing Tatum Back Together? Jessie Sparks Reconciliation Rumours On Ex's 40th Birthday
Have they split for good, could they be getting back together? Let's find out.
Let's take a look inside their rocky relationship timeline:
Jessie J wishes Channing Tatum a happy 40th birthday on Instagram – are they back together?
Channing Tatum and Jessie J split again
According to PEOPLE at the start of April, the break-up for the second time in 2020 is 'totally amicable' and down to their hectic schedules.
Jessie J and Channing Tatum get back together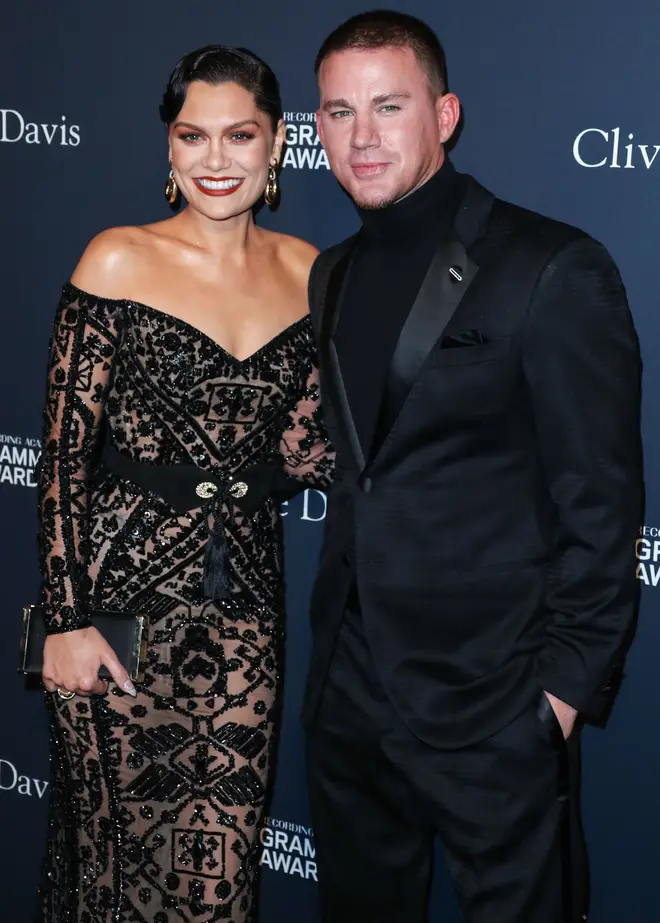 It was reported by E! in January 2020 Jessie was "fully back together' with the Magic Mike actor – news which delighted fans when it broke on 23 January.
Claiming that while they spent a few weeks apart, they decided to get back together as they "really care about each other."
According to reports, the reformed couple were "very happy spending time together again," after they were spotting hitting the shops in Los Angeles together.
Jessie J and Channing Tatum split for the first time in December 2019
It was announced Channing and Jessie J's relationship ended after the pair had 'different priorities'. A source revealed there 'wasn't any drama' between Tatum, 39, and Jessie, 31 and that 'they just decided to part ways and were still good friends'.
Jessie J reveals the nickname she has for Channing Tatum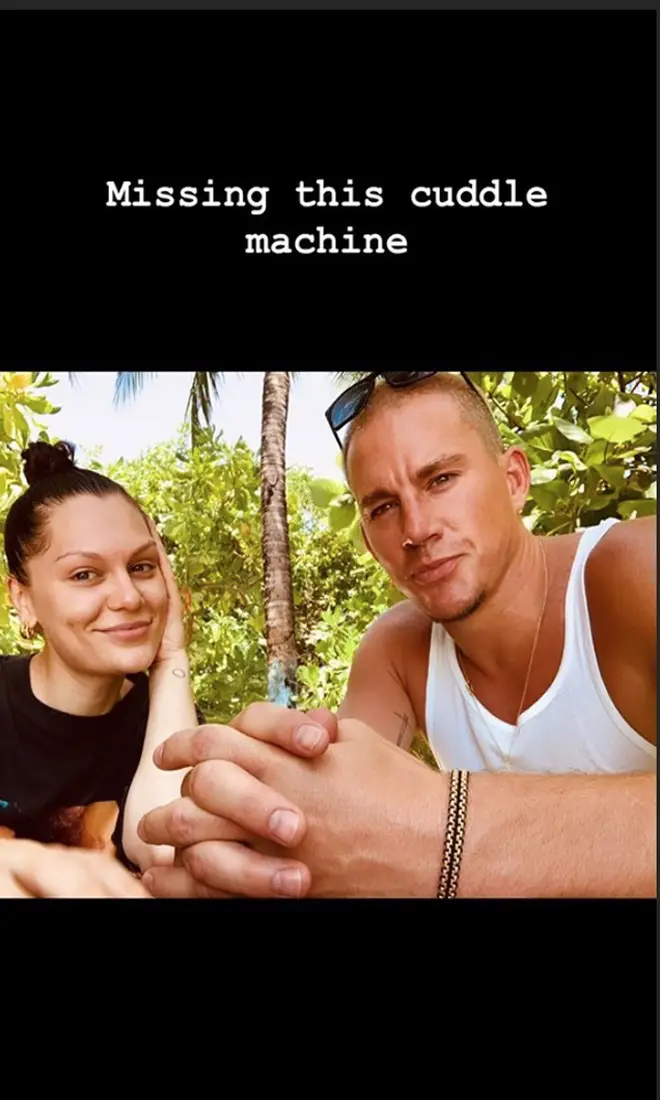 Jessie J described Channing as her "cuddle machine" in an Instagram Stories post telling her beau how much she misses him, sharing a rare picture of them together in the process.
The couple appear to be on holiday in the sweet snap, with Jessie looking fresh faced as she smiles beside Channing who wears a vest.
Palm trees and blue sky can be seen in the background and it's seemingly a throwback to a sunnier time, as the pair were at the time separated as she embarked on her 2019 tour.
Channing Tatum and Jessie J move to a country house in Suffolk for their UK base
In August 2019 Jessie and Channing reportedly moved into a country mansion in Suffolk together after spending more and more time over in the UK, and a county that's just next to Jessie's hometown of Essex!
The A-listers swapped the glitz and glamour of Hollywood for the peaceful country hangout – as Jessie is appearing as a coach on The Voice Kids, and Channing's Magic Mike XXL show is still on in the West End.
Jessie J returns to watch Magic Mike XXL with boyfriend Channing Tatum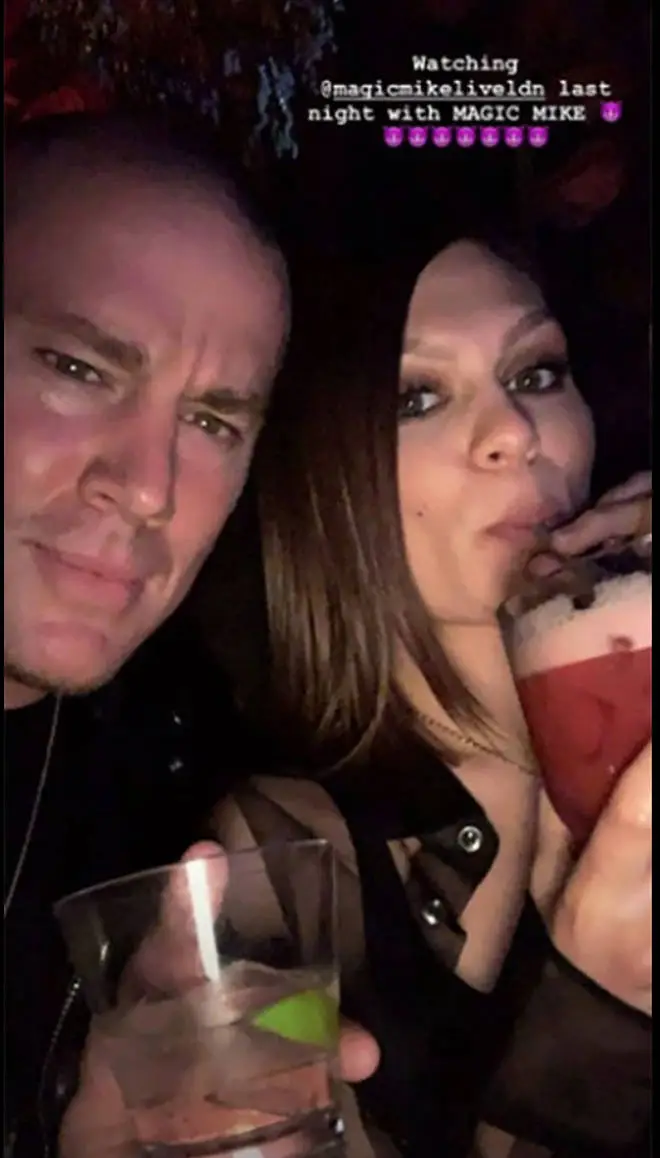 The couple stopped by Channing's Magic Mike Live show in London for date night in July 2019. Fan-girling over her actor beau, Jessie captioned the snap: "Watching Magic Mike XXL with Magic Mike" and we are continuing to be incredibly jealous of this entire situation.
The pair have come almost full circle, as it was in November 2018 when they were first spotted in the same venue, with Jessie cheering on Channing which first caused people to wonder if they were together, just days after he posted an Instagram gushing about Jessie's skills as a performer.
Jessie J speaks publicly about her relationship with Channing Tatum during a TV interview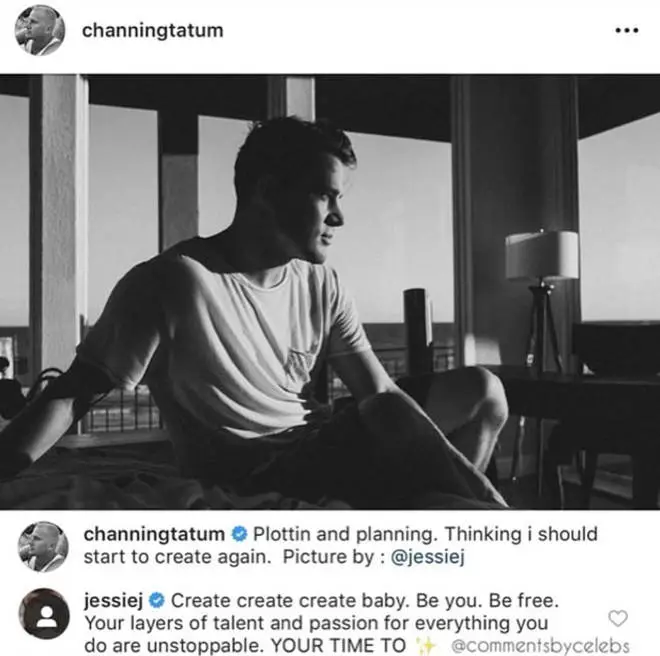 Jessie spoke about her relationship with Channing for the first time in June 2019, confirming she's happy and content during an interview on Lorraine. Although she remained coy when she was quizzed on her love life, the pop star revealed: "I am just very content with my life. Everyone deserves happiness."
Jessie J and Channing Tatum make their relationship Instagram official
Jessie and Channing were pictured out in public for the first time on March 14th in 2019, after touching down in London the day before.
Strolling along hand-in-hand before they hit the shops, Jessie and Channing couldn't stop smiling at each other.
Jessie was dressed casually in a camel-coloured tracksuit and a bomber jacket with her hair scraped back in a bun, while Channing made a low-key appearance in jeans teamed with a hoodie, checked shirt and black cap.
The pair managed to stay pretty low-key ever since they started dating around October in 2018 but slowly opened up their romance online.
Channing began the online PDAs when he dropped a thirsty comment under a holiday snap of Jessie, saying: "Hottest Instagram food model in the game right now".
Jessie had refrained from posting about Channing, until the start of March 2019 when she posted a private conversation between the pair revealing a pretty soppy poem he had sent to her.
It read: "Yes i won't rest till i caress fresh face Jess. I Will finesse 'til success. Never digress. Just progress. Bless".
She also posted a video of them together in the kitchen playing around with the dog filter, showing everyone she's ready to go public with the relationship.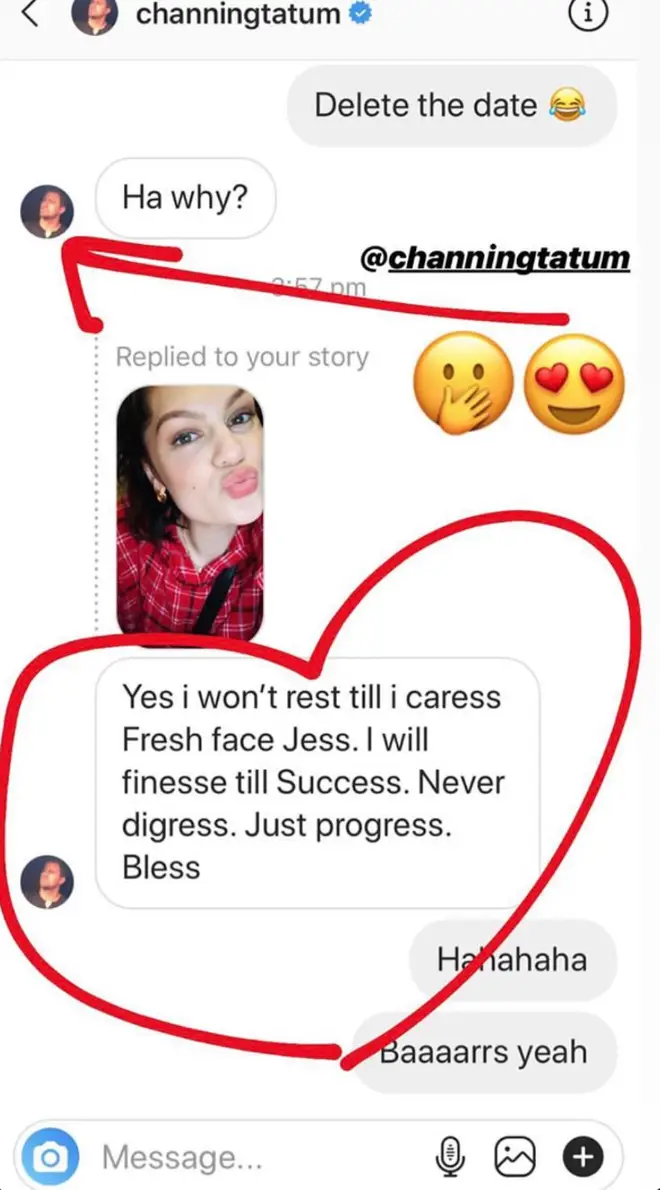 Jessie J and Channing Tatum are pictured together for the first time – at Magic Mike XXL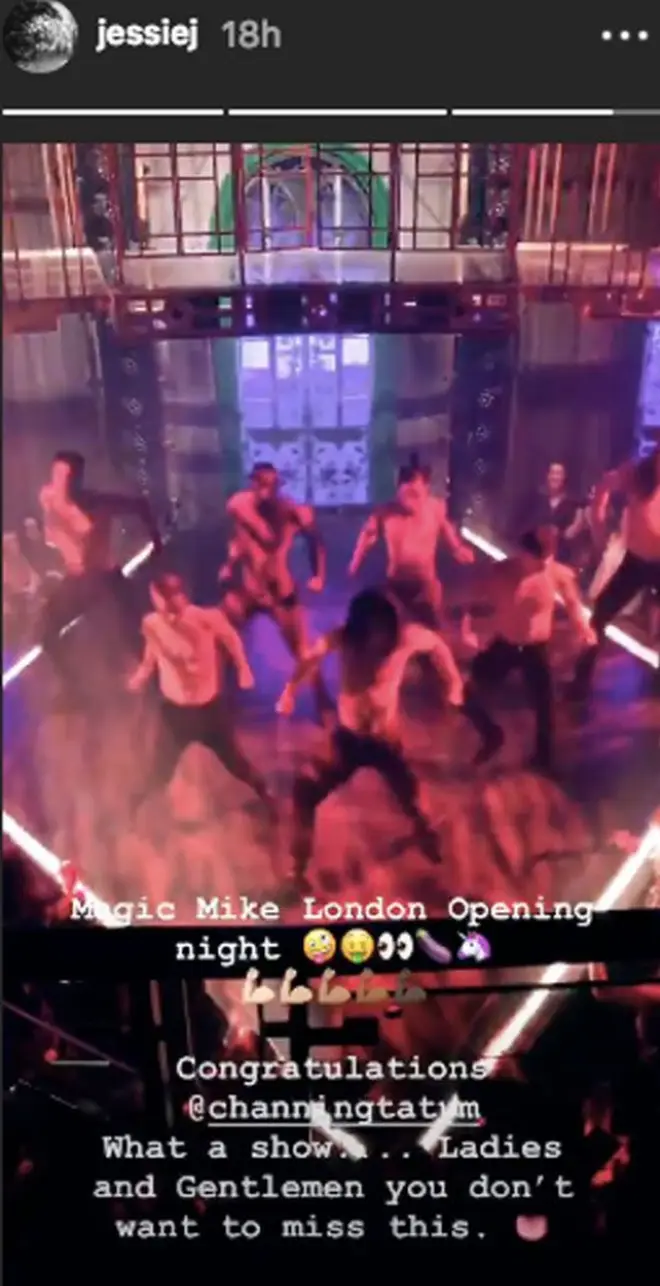 Repaying the favour (and getting some serious eye candy at the same time), Jessie J turned up to the Leicester Square premier of Magic Mike XXL starring the man himself and gave it a plug on her Instagram.
She was spotted in a private box watching the show with friends, and although the two didn't interact, it was pretty obvious why the 'Price Tag' singer was there.
Channing later went to watch Jessie play at The Royal Albert Hall in London and couldn't help himself from gushing at her talent in an Instagram post.
He wrote to his 17 million followers: "This woman just poured her heart out on stage at the Royal Albert Hall. Whoever was there got to witness something special. Wow" and everyone's suspicions were pretty much confirmed.
Jessie also indirectly threw shade at people pointing out the physical similarities between her and Channing's ex, posting a lengthy statement on Instagram.
She asked (without alluding directly to the story) 'who feels good about this story? I don't' and saying 'is picking who is prettier and then saying why a good activity for women to participate in? No'.
Reports Channing Tatum is dating Jessie J emerge
The tabloids reported in October 2018 Jenna has been told Channing is dating Jessie.
A source told E!: "Jenna knew that Channing was dating and it wasn't a surprise. A friend had told her what was going on."
The source added that as long as Channing's main priority is their daughter, Everly, things should be fine.
Channing Tatum splits from Jenna Dewan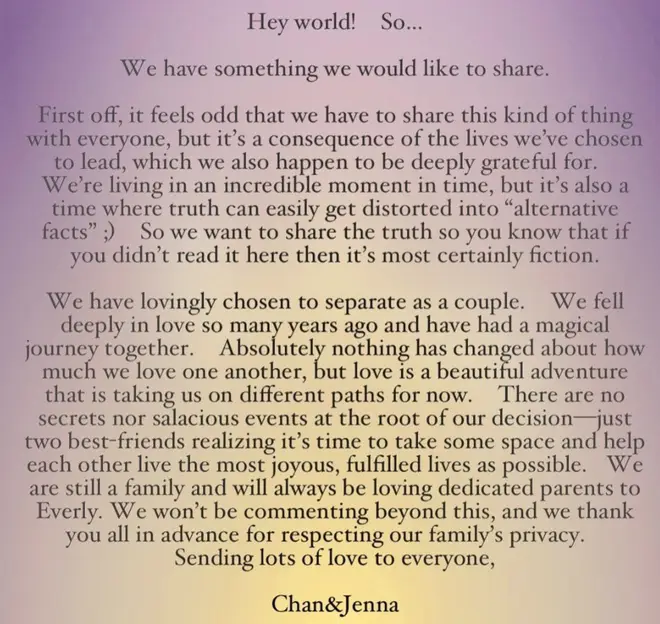 The internet was truly shook when a statement about Jenna and Channing's separation was posted onto their social media channels in April 2018, announcing they were separating, allowing 'love to take them on different paths'.
They first got together when they starred alongside each other in Step Up (2006) and got married in 2009, and have stayed on good terms with each other since they separated and Jenna has a boyfriend, Steve Kazee.
> Download Our Brand New App For All The Latest Jessie J News