Jay Z Stealing Blue Ivy's Snacks Proves They're Just Like Us Really
31 January 2018, 12:00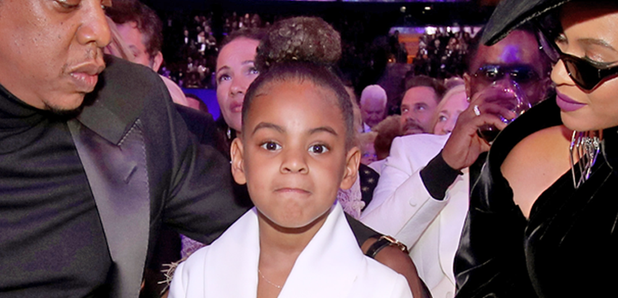 What's mine is yours and all that...
When it comes to Beyoncé, Jay Z and their little family, many people think they're somehow different from the rest of us 'non celebs'.
They may have millions of pounds in the bank and more social media followers than we could ever imagine, but they've finally proven that they're not so different from you and your fam.
> Jay-Z Gives Blue Ivy A Birthday Present To Remember & We Can't Get Enough Of Her Animated Alter-Ego
Blue Ivy, who became the star of the 2018 GRAMMY Awards after she stopped her mum and dad from clapping during the show, had a load of snacks packed for her by her parents and was snapped munching on them during the show's breaks.
motherhood be like: pic.twitter.com/eo8TsKDSDD

— eatwords drinkstars (@akamami) January 30, 2018
Not only did Bey and Jay pack some treats to keep Blue's energy up during the long awards show, but Jay Z was even pictured grabbing a handful of his daughters snacks right out of her hand!
This picture belongs on the cover of Parenting magazine. Bey brought the snacks and Jay is eating some too with Blue lol pic.twitter.com/76826DxwyD

— Matthew A. Cherry (@MatthewACherry) January 29, 2018
Clearly feeling peckish, the rapper wasn't shy about grabbing his daughter's treats, although Beyoncé appeared to resist the temptation to chow down on some raisins.
Parents are always packing snacks for their kids when they go out to places to sort them out if they get hungry and top hopefully stop them ever getting hangry, and it seems that Jay and Bey are no different to Bob and Sandra from down the road.
Beyoncé is even sat there holding Blue's drink whilst she eats her food, proving that Bey really is the doting mum and doesn't use her millions of pounds to hire a nanny to take care of her daughter's every whim 24/7.

(GIF: Giphy)
Next we'll be seeing pics of the three of them tucking into a Chicken Tikka sat in front of the TV watching Take Me Out whilst the twins have a nap in the other room.
Well we can dream anyway.
> Download Our Fancy New App For All The Latest Music News!
Whilst you're here, check out what Jay Z had to say about fighting for his marriage to Bey...