Jax Jones feat Demi Lovato & Stefflon Don – 'Instruction' (Live At The Summertime Ball 2018)
9 June 2018, 19:11 | Updated: 9 June 2018, 19:13
When you get Jax Jones, Demi Lovato and Stefflon Don on the same stage performing 'Instruction', you know it's a big damn deal.
They've only performed the song together a handful of times, so we were pretty honoured to have all three of these amazing artists join us in the #CapitalSTB stage and totally nail it.
Jax Jones brought out fellow Baller Stefflon Don for a surprise appearance and in one of the biggest shocks of the entire Ball, Demi Lovato made a jaw dropping appearance alongside the two British stars to plenty of screams from 80,000 stunned fans.
Teaming up a voice like Demi's with the vocal abilities and sass of Stefflon Don was a master stroke by Jax Jones and this will certainly go down as one of his greatest live shows of all time.
Miss out on being with us at the #CapitalSTB this year? Luckily for you, you can catch up with Jax Jones, Demi Lovato and Stefflon Don's memorable by watching the video above.
Jax Jones – Summertime Ball 2018 Setlist
Housework
I Got You
Breathe
Barking feat Ramz
Instruction feat Demi Lovato & Stefflon Don
You Don't Know Me feat Raye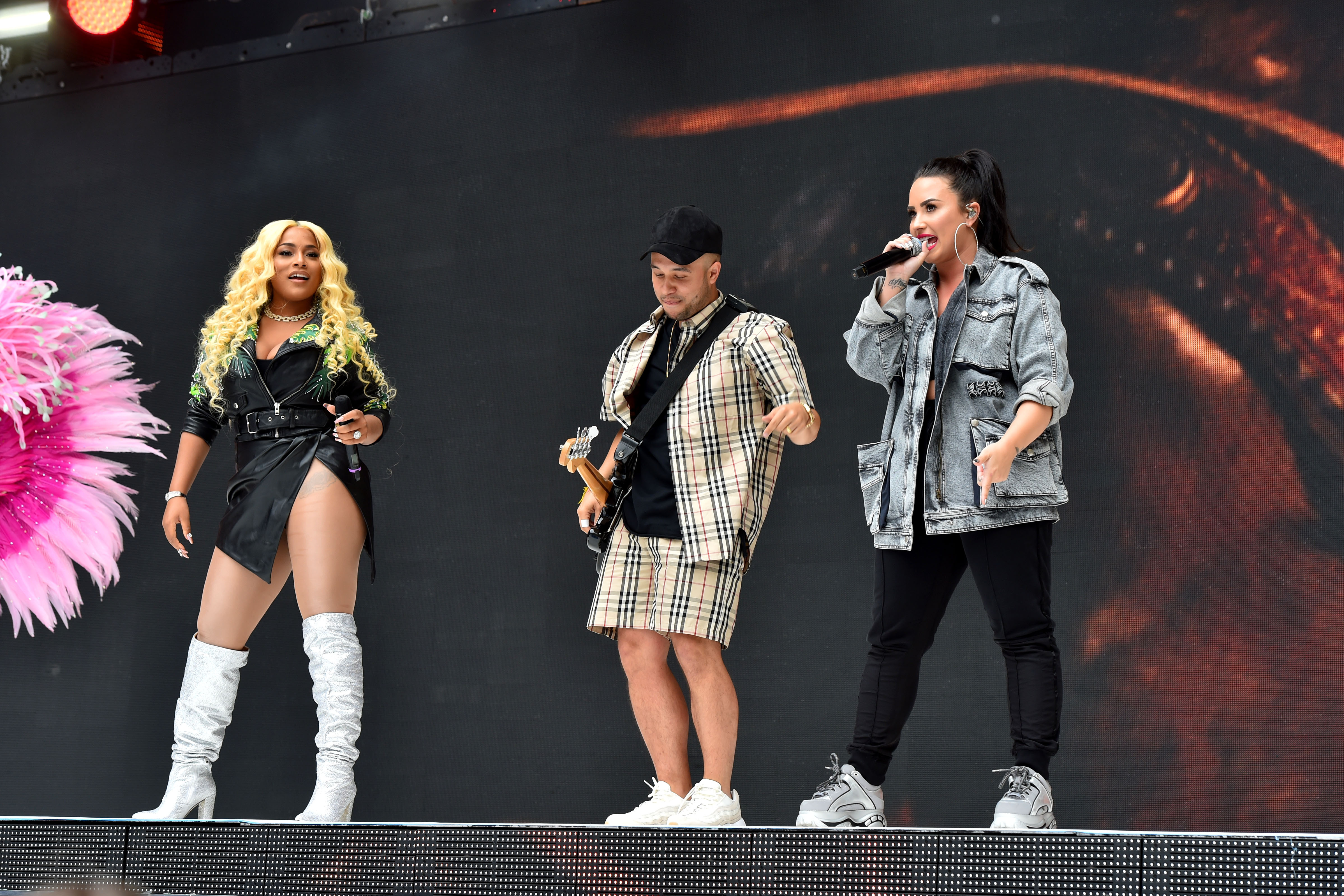 Jax Jones feat Demi Lovato & Stefflon Don 'Instruction' Lyrics
[Intro: Demi Lovato & (Jax Jones)]
All my ladies
All my ladies
(What you gon' do?)

[Chorus: Demi Lovato]
All my ladies
Wind to the left, sway to the right
Drop it down low and take it back high
Bitch, I don't need introduction
Follow my simple instruction
Wind to the left, sway to the right
Drop it down low and take it back high
Bitch, I don't need introduction
Follow my simple instruction

[Verse 1: Demi Lovato]
You see me I do what I gotta do, oh yeah
On the guest list, no need to queue, oh yeah
Me and my crew, we got the juice, oh yeah
So come here, let me mentor you, well

[Pre-Chorus: Demi Lovato]
Some say I'm bossy 'cause I am the boss
Buy anything, I don't care what it cost
Stacked like casino, Armani, Moschino
If you're The Supreme then I'm Diana Ross

[Chorus: Demi Lovato]
All my ladies
Wind to the left, sway to the right
Drop it down low and take it back high
Bitch, I don't need introduction
Follow my simple instruction
Wind to the left, sway to the right
Drop it down low and take it back high
Bitch, I don't need introduction
Follow my simple instruction

[Verse 2: Demi Lovato]
(Step one)
Report to the dance floor when I say, oh yeah
(Step two)
Tell mom you'll be out till late, oh yeah
(Step three)
Pull up your bumper, cock up your waist, oh yeah
(Step four)
Grab somebody, now face to face and say

[Pre-Chorus: Demi Lovato]
Say that you're bossy 'cause you are the boss
Buy anything, you don't care what it costs
Stacked like casino, Armani, Moschino
If you're The Supreme then I'm Diana Ross

[Chorus: Demi Lovato & Stefflon Don]
All my ladies
Wind to the left, sway to the right
Drop it down low and take it back high
Bitch, I don't need introduction
Follow my simple instruction
Wind to the left, sway to the right
Drop it down low and take it back high
Bitch, I don't need introduction
Follow my simple instruction

[Bridge: Stefflon Don & Demi Lovato]
Yo, see me 'av everyting what you want, put it pon me
They dunno the realest star 'cause she don't play
They say I'm loco, di way me do me ting
Gyal haffi back up, back up pon it
Gyal haffi stack up, stack up pon it
(All my ladies) bad gyal, bad gyal
'Nuff a dey ting, 'nuff a dey ting, say enough a dey ting
Bad gyal, bad gyal, mashin' up di ting, mash up di ting pon him

[Pre-Chorus: Demi Lovato]
Say that you're bossy 'cause you are the boss
Buy anything, you don't care what it costs
Stacked like casino, Armani, Moschino
If you're The Supreme then I'm Diana Ross

[Chorus: Demi Lovato]
All my ladies
Wind to the left, sway to the right
Drop it down low and take it back high
Bitch, I don't need introduction
Follow my simple instruction
Wind to the left, sway to the right
Drop it down low and take it back high
Bitch, I don't need introduction
Follow my simple instruction

[Outro: Demi Lovato]
Bitch, I don't need introduction
Follow my simple instruction
Bitch, I don't need introduction
Follow my simple instruction