Southampton Drugs Gang Jailed For 29 Years
7 November 2013, 10:39 | Updated: 30 March 2016, 13:50
A gang of drug dealers operating in Southampton have been put behind bars for almost 30 years between them.
The five men were jailed for a combined 29 years following an investigation by the Operation Fortress police team which works to reduce the harm of drug-related violence in the city.

On Wednesday 1 August 2012, officers with the Force Support on patrol in Weston Lane stopped a taxi after noticing its nearside brake light was out.

When officers asked the front seat passenger, Abdi Farah, to step out of the vehicle, they spotted two golf-ball sized balls containing individual wraps of what turned out to be heroin and cocaine with a street of more than £2,000.

Enquiries led police to a flat in Rotterdam Towers, International Way, where they discovered a further £16,500 worth of heroin and cocaine and links to the other men in the group, some of whom turned up at the address while officers were there.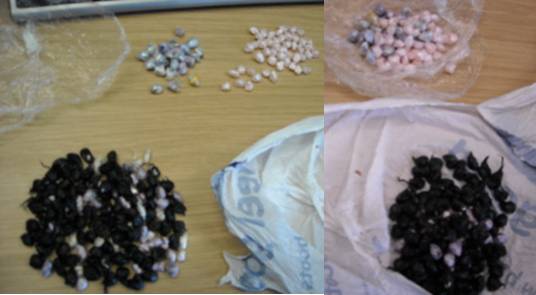 Five men were charged with conspiracy to supply class A drugs. They pleaded guilty and were sentenced at Southampton Crown Court on Friday, November 1:
- Abdi Farah, 20, Cromwell Road, Hayes, jailed for five years
- Abdi Saeed, 32, Great Ann Street, Bristol, jailed for five years
- Omar Abdi, 21, Wren Lane, Ruislip, jailed for four years
- Abdullah Mohamoud, 22, Bullar Street, Southampton, jailed for eight years and six months
- Ali Mohamed, 33, Northam Road, Southampton, jailed for six years and six months

PC Mike Hedley from the Operation Fortress team led the investigation. He said:
"This is a significant result for Operation Fortress: we've taken thousands of pounds worth of class A drugs off the streets and seen five men involved in high-level drug supply put behind bars.

"The network they operated was well known and well established around Southampton and although it's difficult to measure the full impact that removing them will have on the supply of illegal drugs in the city it can only be a positive one.

"Some of the men were London based and there was certainly a fear in the community about what they were capable of because of these connections. For example, they ran their criminal business out of the flat in Rotterdam Towers that was secured by bullying and intimidating the previous occupant and eventually driving him out.

"Operation Fortress was set up to reduce the harm of drug-related violence committed by such organised crime groups. Our aim remains to make Southampton a hostile place for anyone coming here to deal drugs and intimidate others while finding long term solutions to reducing the demand for drugs and helping to rebuild communities."